Noel Edmonds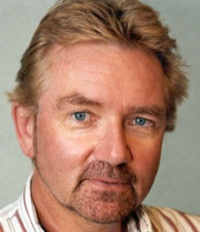 Biography
Edmonds started out in radio, and became the youngest DJ on Radio 1 for his time (aged 19). Children's television beckoned, and he fronted the Multi-coloured Swap Shop for many years on BBC1.
After a couple of quizzes he went on to the freeform entertainment format The Late Late Breakfast Show on Saturday nights, which abruptly ended its run when a bungee jump stunt ended in the death of a member of the public. Virtually the same format re-appeared later as the Saturday Roadshow.
Noel's House Party was more of a roller-coaster - initially it won international awards and was the lynchpin of the BBC's entertainment line-up. In later years, it received intense criticism as a sign of falling standards at the BBC (something Edmonds himself is said to have agreed with, even pulling out of one live show hours before broadcast).
The House Party was axed in 1999, and apart from a few fairly low-key forays guesting on BBC Radio and the odd TV clips show, Noel seemed to have retired from the limelight for quite a while. However in 2005 he returned to present Deal or No Deal, his first TV hosting role in six years. In addition, he has presented several programmes for Sky One, including Are You Smarter Than a 10 Year Old?, and Noel's Christmas Presents.
Trivia
Edmonds hosted the UK's first ever National Lottery show.
His first ever broadcasting job was on Radio Luxembourg - as a newsreader. He then worked for the BBC, making radio trailers, before getting his big break when DJ Kenny Everett was sacked.
Between 2004 and 2007 he was president of the British Horse Society, a role he took over from Princess Anne.
One of the few things Edmonds has in common with Stephen Fry is that both drive black cabs (for personal use, that is - they don't take fares). However, the Qimaster seems to be accepted rather more readily by proper London cabbies than the Blobbymeister is by their Bristol counterparts, such are the benefits of "national treasure" status and proper shaving.
Despite a 30-year career in broadcasting, it wasn't until 2007 that he was finally listed in Who's Who. In case you're wondering, he doesn't list Hobby Horse or Whatever Next... among his career highlights, though he does include Lucky Numbers. His middle name is Ernest, although he's only noted as "Noel E Edmonds" in the book.
In one book that he wrote, 'The Multicoloured Noel Edmonds' (written while he was doing 'Swap Shop'), Edmonds stated that one of his lesser-known claims to fame was that he was the only person ever to have hosted both Come Dancing and 'Top of the Pops'. However, this was not in fact the case, because Pete Murray had also hosted both shows. Edmonds also revealed that he had not enjoyed hosting 'Come Dancing' - he felt decidedly out of place in the whole set-up - so he did not stay long in the role.
Books / Tapes
Positively Happy: Cosmic Ways To Change Your Life (paperback)
Noel Edmonds: the Unauthorised Biography by Alison Bowyer
Web links
See also
An appreciation from Weaver's Week, in three parts: a beard for Radio, a beard for Saturday night, a beard for History.
Feedback