Weaver's Week 2009-12-06
Last week | Weaver's Week Index | Next week
Tiger Aspect for Dave, 2008 – present
A couple of comedy quizzes get the review treatment this week. First up is Argumental, a show we've been intending to review for over a year, but never quite got round to it. The sample episode sitting on our DVR has the datestamp of 1 December 2008, and we've only seen it the once before this week. Time to set that one straight.

John Sergeant is the host for this show. He's tried to establish a new career as a comedy funny man, but he always strikes us as being like a cuddly uncle telling a shaggy dog story, while the scriptwriters want him to have a load of one-liners. It didn't quite work on his pilot show Not Tonight with John Sergeant (ITV, 22 May 2005), and it doesn't quite work here.

The main thrust of the show does work very well. Team captains Marcus Brigstocke (tall, dark, snowboarder) and Rufus Hound (tall, hair copied by both John and Edward) are joined by a second person each week, and they'll debate various propositions. For instance, "The Credit Crunch is A Good Thing", which really does show how long we've had this show waiting for review. One person speaks to the point, someone from the other side speaks against it, and everyone contributes to a subsequent discussion. After the break, a similar format applies for another idea, such as "Piers Morgan shows that Britain has got talent" – in this case, the debate is assisted by a lifesized cardboard cutout of Mr. Morgan.

Before the break, there's another round, in which the team is given a topic to speak on, and some pictures that might – or might not – help them to establish their points. Other reviews have mentioned a Swift U-Turns round, asking the speakers to reverse their position at the drop of a hat; our extensive viewing of almost two episodes hasn't shown evidence of this. The final round is a further series of pictures, which the panel is allowed to use to make or break some argument.

Each round is judged by members of the audience holding up reversible batons – one of red, for whichever team is in the red corner that week, the other is blue. Whichever team has the majority of the votes wins the round, whichever wins the majority of the rounds wins the show.

We have a feeling that we've heard similar ideas on the wireless in the past. Arguing against received opinion is the raison d'etre of Radio 4's non-competitive Heresey (hosted by both David Baddiel and Victoria Coren over the years, so it's got to be good). Panellists reversing themselves on the tootle of a horn is surely something they've played on I'm Sorry I Haven't a Clue, and the use of pictures feels like a round from Mock the Week.

Argumental differs from Mock in one crucial respect: it's competitive, but not that competitive. We've found Mock the Week to be increasingly tedious viewing, precisely because the panellists take it so seriously that the jokes are becoming second to their burning desire to win win win! Argumental knows it's half-an-hour of quick thinking, responding on the spur of the moment, with no greater meaning than that. It's worth watching.
BBC4, 10pm Tuesday
If Argumental has been sitting around for ages, We Need Answers has been running for ages without us noticing. Mark Watson, Tim Key and Alex Horne began their show at the Edinburgh Fringes of 2007 and 2008. Indeed, the show – which ran for fifteen nights, each of them unscripted and different – took the form of a knockout quiz between sixteen comedians. It eventually gave some winners – in 2007, Paul Sinha beat Josie Long in the final; Josie beat Kristen Schaal in 2008. Participant Richard Herring said, "It should definitely be given a TV series. It's hilarious."

So, what do we get when tuning in? A set of orange and white stripes, three men in suits and ties standing about talking to each other, and host Mark Watson stands up straight while addressing the audience. For some reason, we're reminded of an Open University broadcast circa 1980. The hosts are introduced, the guests are introduced (with some Top Trumps-style facts), and Tim Key appears on set sitting in a very comfortable leather chair. The two contestants are sat on bar stools.

Round one – Burning Issues and Fiddly Questions – is a series of questions that were originally submitted to one of those SMS services that claim they can answer any question. Let's assume, for the sake of the programme, that the answers supplied in response to the questions are correct, because the standing argument about not believing anything you see on the interwebs is just going to confuse us. If the contestant gives the same answer as the SMS service, they score two points; a completely wrong answer is not pointworthy, and one that's partly right scores one point.

Tim and his armchair disappear back through the set at the end of the round, only to return a moment later for round two, You or Him / Her. Contestants can answer a question on him- or herself, or on their opponent for double points. Within each round, there are disruptions, popped in by Alex Horne and his computers – there's a prepared sequence to herald a sad question, another for an outstanding answer, and some more random surreality, such as the computers' anti-virus software needing an update.

Round three follows shortly, and it's the Physical Challenge. In this round, there will be custard pies and Nick Wilton chortling into the mike and Peter Simon falling over... oh, sorry, this isn't Double Dare. Instead, it's a challenge of a physical nature, inspired by a question asked of the SMS answering service. In this week's show, guests Jenni Murray and Martin Offiah were invited to shout into a microphone while reading a short passage from their autobiographies. Both contenders were louder than a gunshot.

The final round is the Quickfire Meltdown Round, a series of questions on the buzzer. There are comedy buzzer noises, as we last saw on BBC3's Clever v Stupid. After this, the winner is announced, and the runner-up is invited to clomp off stage in the clogs of defeat. As one does.

The winner remains on stage to face the House Prize Showdown, a prize that quite literally comes from one of the host's houses. If the contender gets the one final question correct, they win the piece of tat from the host's house; failure means they leave with the We Need Answers plate. Or date, whichever they preferred.

The set is minimalist if not sparse – the orange-and-white stripes are adorned only by an oversized projection screen, onto which Alex serves up the graphics and sounds from his laptops, and Mark spends most of the game perched behind a desk with some (unused) reference books on display, a bit like Richard Osman from Pointless.

So that's what happens, but is it any good? Ah, difficult question. There's an air of complete surreality around the whole proceeding, as if it's about to go madly off in any one of a dozen directions, meandering towards the inevitable conclusion. Some of the jokes work, some of them don't, and some of them probably do work well in the live show but don't quite transfer to television. The inevitable comparison is with Shooting Stars, only with Vic 'n' Bob replaced by fresher models. We have a feeling that this does work really well as a live show, and loses a little in translation to the small screen. It's a topic we'll be returning to next week.

Six weeks since we last looked at events in the Countdown studios, since when the Dictionary Corner guests have run from Tim Vine to Jon Gaunt. We prefer to concentrate on events closer to the clock, and we left Brian Selway in the middle of what would turn out to be his octochamp run. The eight wins netted 746 points, sufficient at the time for fourth seeding.
John Dyer (1 win, 145 pts) and Gordon Vaughan (1 win, 173) both left Manchester with teapots, Robert Brownlie (2 wins, 285) recorded an excellent score of 119, before falling to Jeremy Baker (1 win, 161). Ryan Taylor took the championship on Guy Fawkes' Night, and compiled a total of 792 points as he won eight in a row. The final win was against peripatetic game show contestant Ryan Vickers, appearing on Countdown between visits to Noely's Church of Chance and Des Chiffres et Des Lettres. But not the Mr. Bean convention.
Anyway, Ryan Taylor became the seventh octochamp of the season. Charlie Khoo looked a likely bet to make the Finals Week when he won his first four games (440 pts), but lost a cracker to Jennifer Bett. She made three wins (332 pts), then Graham Jones won two (241), and Tom Allerton made four wins (425) before losing another rip-roaring game to Jan Parker last Friday.
All of this leaves the draw for the quarter-finals as follows:
QF1 Andrew Hulme v Jacqueline Baker
QF4 Ryan Taylor v Brian Selway
QF3 Innis Carson v Jeffrey Burgin
QF2 Chris Davies v Steve Wood
Andrew Hulme is the highest-scoring champion ever, 930 points in his wins. Jacqueline Baker was the champion carried over from the last series, she managed four wins then, one win in this contest, and beat Bob de Caux to the last place by five points. Ryan and Brian we've discussed above. Innis Carson totalled 861 in his wins during the Wimbledon heatwave, Jeffrey scored 685 during September. Chris made his mark earlier in September, and his 892 suggests there will be a fascinating semi-final in prospect. Steve Wood completes the line-up, 675 points in October.
Finals Week begins on Thursday, and we'll have our customary review in two weeks' time.
Second round, match 4: Imperial London v St Hugh's Oxford
Imperial came through in the first half of their match against Southampton shown on 7 September, which the side won by 175-135. St Hugh's qualified two weeks later, beating Magadlene Cambridge on a tie-break after a 135-135 draw. They're competing for the fifth place in the quarter-finals.
After four cracking matches involving some quality sides, we're about due a run-of-the-mill game. Surely some matches have to be a bit more average! The first starter of the show is dropped by both sides, which might be a not particularly well hidden indicator of the week. Imperial are perfect on words containing five vowels, and St Hugh's get a set of questions on classical Greek literature, which their resident classicist Eleanor Brown answers with an abundance of glee. Indeed, the first ten bonus questions are correctly answered by the sides. The first visual round shows a map and asks the teams to name the letter all the countries begin with. Imperial has the lead, and it's already 90-25.
From their first round matches, all is to play for. Neither team gets the Jade Goody Memorial Question, on the biological causes of a verruca. Thumper asks a set of questions about the famous book "Don Quixote", which he pronounces "quicks-oat", rather than "kee-hoe-tay". It's a quixotic pronunciation from the host, but he knew how to pronounce Pinochet, so we'll trust him. Wordplay of the Week asks the teams to insert a letter into one definition to form another, and identify the letter. The audio round is on some classical works, and when in doubt, say Tchaikovsky. It helps St Hugh's improve their standing slightly, but they trail by 160-30.
Even the comeback kings might find this a tricky position to pull back. We know that Imperial is a science university, and we're prepared to cut them a little slack on obscure arts. They don't need that, but they couldn't tell us the approximate size of a Barn, a unit of measure somewhat smaller than a barn door. The second visual round is to identify jazz musicians, and Imperial must surely have this wrapped up, leading as they do by 235-30.
But here come St Hugh's, answering a question about CPE Bach's patron. We thought that was the spoof invented by a comedian, but that's PDQ Bach. They also get that there are nine in an aenead, and it seems that Imperial are content to run the clock down with plausible but incorrect answers. Not that they'd deliberately get anything wrong, they're far too smart for that. St Hugh's are perfect on fabric dyes, Imperial come back in the closing moments, but spurn the chance to shout "Uranus!" on national television. At the gong, Imperial have won by a large margin, 280-80.
Where did Imperial go right? Gilad Amit did spectacularly well, nine starters as his team made 26/44 bonuses. St Hugh's had their moments, David Freeborn and Alex Economides both got two starters, and Eleanor Brown seemed to get most of the team's bonuses – their total was 9/15, with three missignals. There were eleven dropped starters in the transmitted programme, so the overall score is 55/90.
Next match: Jesus Oxford v Warwick
This Week And Next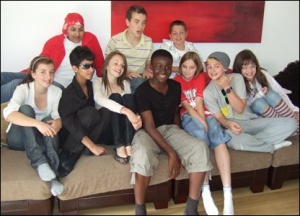 Congratulations to the game show winners at last week's Children's BAFTA awards. Election (Carolyn Payne, Tina Gortmans, Diverse Production/CBBC) won the Entertainment category, an entirely deserved award. Richard Hammond won the Presenter award for his work on Blast Lab.
The It's Still 2007 department notes how Reef Television has agreed to pay compensation over three series, after it was found they misled viewers. Sun, Sea and Bargain Spotting, "Trash to Cash", and Put Your Money Where Your Mouth Is all went out on BBC daytime, and all involved people trying to flog stuff they'd picked up for cash. All suffered from members of staff buying those items, and there was some "dramatic re-enactment" of scenes missed by the cameras. Reef remains suspended from BBC productions, at least until it's paid its fines.
Ratings for the week to 22 November show Simon Cowell Annoys attracted 14.5m for the results, and 14m for the performances. I'm a Celeb peaked on Saturday, with 10.85m seeing whatever happened. Strictly had 9.6m viewers on BBC1, and 185,000 on BBC-HD. University Challenge secured 3.45m viewers, Dancing on Two broke through 3m viewers, and Mastermind's Children in Need special was seen by 2.5m.
Unusually tight at the top for the digital channels: 1.035m saw I'm a Celeb on ITV2, 965,000 the More Annoyance programme, and 945,000 a repeat of Come Dine With Me. America's Next Top Model was the biggest new standalone programme of the week, with 340,000 viewers on UK Living. Bamzooki was close behind, with 310,000.
Returning to Simon Cowell, we were rather interested to hear that his Winners's Song 2009 might turn out to be "The Climb". Written by Jessi Alexander and Jon Mabe, and nominated for a NARAS award, it's a song known to this column from something Nicki Chapman said. What was it? (Goes off and re-views the Hannah-Oke episode from the summer.) Ah yes. Chapman said, "This is a really difficult song." Vocally taxing. Not easy to sing. In other words, completely unlike anything Simon Cowell Annoys has inflicted on the world previously, because it requires a large amount of actual talent and ability. Which is a bit of a shame, because we were hoping to make a crack about ITV being Disney Channel from ages ago, and wondered what would be coming next. Rappin' Drakken? Er, let's wash that idea out of our heads.
Coming up next week, then. We're still dredging through the detritus of the schedules, and (once again) giving thanks for BBC4. A season on games and pastimes is not strictly on-topic, apart from the Only Connect Ultra-Championship, but may well be of interest – we're particularly looking forward to Games Britannia (9pm Mon). After narrating the Kit Williams show last week, Janet Ellis returns with Going to Pieces In the Box, a brief history of the jigsaw (Radio 4, 11.30am Tue). Countdown begins its latest finals week (C4, 3.25 Thu). Next Saturday's talent shows – Strictly 6.45 – 8pm and 9.30 to 10pm, Simon Cowell 7.30 to 9.30.
To have Weaver's Week emailed to you on publication day, receive our exclusive TV roundup of the game shows in the week ahead, and chat to other ukgameshows.com readers, sign up to our Yahoo! Group.