Weaver's Week 2011-05-08
Last week | Weaver's Week Index | Next week

Three new quiz shows from Radio 4 this week. Well, that's "new" in the sense of "we've not reviewed them before", even though one of the programmes has been going out since last year. Later, we'll advance a theory about a replacement for a venerable radio institution, and we'll see if a hero of this column is adapting well to married life. But first, a show that took its name from a tropical day in Freezember last winter.
Pozzitive Productions for Radio 4, 21 February – 28 March
Steve Punt has it difficult on The Now Show. He doesn't get to do the opening announcement. He doesn't get the catchphrases like "I can see, I can see perfectly." He's not got the remarkable stature of John Holmes, or the reputation for ranting of Marcus Brigstocke. He doesn't even have the musical largesse of Mitch Benn.
What he does have is a portable BBC quiz, and a BBC travel pass. And, by golly, he's not afraid to use them! The 3rd Degree is recorded at various British seats of higher learning, from the grandeur of Durham and the rarefied splendour of Stirling, to the travel-oriented University of Lunn. Each episode pits three students against three of their own tutors and lecturers. It's not just a case of how well do the students know their specialist subject, but how well have they been taught by the other side?
After the introductions, round one begins quietly, with some questions assigned to each side. Two points for a correct answer, one if the question is passed over to the opposition. So far, not much to report – the questions are perhaps less General Knowledge than Slightly Rare Knowledge, but then we are dealing with people too well-qualified for University Challenge.
Round two is the first use of asymmetric scoring we've seen, as it consists of three questions about the specialist subject shared by the first student and their teacher. Two points if the don can correctly answer the question about the subject they teach, and one well-earned bonus point if the don is wrong and the student is right. Don't expect this to happen too often – the questions are flamboyances, the audience is led to believe that they're as tough as anything, but are probably a bit easier than they sound. If the student errs, their question will be offered to their tutor, but only for bragging rights, no points are scored.
Round three, and the show's beginning to list already. The teams are given a category and 30 seconds to name items fitting into that set as they can. One point for each correct answer, marked by a very cheap electronic buzz (it's all Steve Punt could fit into his Portable BBC Quiz), and if they get eight correct responses, that's a bonus mark and round of applause. After this comes the specialist round for the second student-tutor pairing.
Round five is The 3rd Degree's signature, and it takes up about a third of the show's running length. Highbrow Lowbrow is a simple challenge: will the students prefer to take a Highbrow question (about high culture, the arts, difficult sciences), or a Lowbrow question (about low culture, popular arts, simple sciences)? Students will be rewarded with two points if they correctly answer a Highbrow question, but just one point if they go for a Lowbrow question. The dons receive opposite rewards – one point for a Highbrow, two for a Lowbrow. The questions come in pairs, linked by a brief description, and the question the student doesn't pick is given to the tutor.
As any logician will have concluded some time ago, both sides have identical chances to score points – if the student chooses a Lowbrow question for one point, their opposition must have a Highbrow poser for a single point. Questions can't be passed over for bonuses, because that would be too confusing. After each of the students has chosen their Highbrow Lowbrow question, the dons turn the tables and select questions of their own. It's at this point that the teachers pull away, they do well on the Lowbrow questions and the students do less well on Highbrow subjects.
After this comes the individual round for the final student-tutor pair, and the quiz ends with a standard fingers-on-buzzers round, before the dons are declared the winners, often by quite a large margin.
We're not tremendously upset by the way the teachers went through the series unbeaten, they are university lecturers, and university lecturers are meant to know an awful lot. We also liked the way Steve Punt kept the programme flowing at a decent pace, adding jokes and asides, and keeping proceedings moving along most enjoyably. He's probably helped by the audience at the student bar, who have doubtlessly taken this opportunity to have their one pint of something for the week.
If there's one slight criticism we'd make, it's that the Highbrow Lowbrow round is a bit of a block in the middle of the programme. We might prefer to split the round into two parts, perhaps shifting the first immediately before the lists round. That would add a little bit more variety, and make the programme a little less imposing.
That's just a minor criticism: most of what The 3rd Degree does, it does well. Given that it replaced the venerable Quote... Unquote, it didn't have a high bar, but we can see this programme running for a fair few years.
Radio 4, 17 February – 24 March
This review mostly based on the programme of 10 March.
Take, if you will, four of the brightest comedians of the moment. Put them in a radio studio, and invite them to give each other games to play. Record the output and shove it out in the experimental late-night comedy slot on the top people's radio station.
In the sample episode we heard, the comedians were the effervescent Josie Long, the very Welsh Alun Cochrane, everyone's favourite Buckinghamshire town Milton Jones, and Russell Kane who we'd never encountered before, so we're losing already. Each player has brought along a game that will either make for good radio, or will be entertaining to play but might not sound quite so brilliant when heard in sound only.
For instance, Josie's game – in which the panellists were each asked a trivia question, and they would look for someone in the audience who might know the answer – worked well. Not so much because we saw the scrambling in the audience, or the contestants checking out the talent, but because it broke the ice and set us tittering.
For no adequate reason, this round was prefaced by a round of "who has the saddest things in their pockets", which degenerated into the enumeration of the number of stamps on frequent coffee drinker loyalty cards. This didn't work, on the grounds of not actually being funny.
Russell submitted a round called "mood news", in which everyone had a news report, and they were to read it out using an emotion picked out from a bag of moods. This just about worked, on the grounds that it relied on voice acting skills, and other qualities that are familiar to sound broadcasting.
Alun invited the other members of the panel to adopt a superpower, and describe how their lives would be changed. Would they be able to do good things? Become a harbinger of evil? With creative minds on the panel, this was probably the highlight of the night.
Milton Jones is famed for his swift wits and wordplay, and he invited the panel to complete some Christmas cracker jokes. You know the sort, "What's an astronaut's favourite food? Launcheon meat. Do you get it? It's a pun on that inedible rubbery substance 'luncheon meat'. Oh, have another roast potato if it'll shut you up." Points for the correct answer, points at the chairman's whim for answers better than the correct answer, such as "rocket".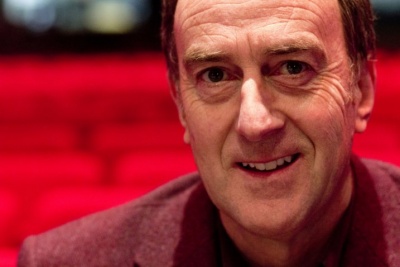 Angus Deayton. Still wearing the brown suits, we see.
The chairman? Ah yes. Angus Deayton introduces the programme, and makes a valiant attempt to a) keep order, b) understand the rules to each game, and c) not drop off through sheer tedium when going through the dull bits of the show. Deayton is best known for his taste in brown suits, which led to him being voted TV's Mr. Sex from 1992 to 1997, when he was also the regular host of the topical television quiz Have I Got News for You. On this programme, he's reverting back to his role on Radio Active, as the slightly cranky veteran who thinks he's a bit too good for all of this modern stuff.
Here, he stays firmly in the background, not dominating the programme as some radio chairmen with equally dubious taste in suits are prone to do. Indeed, the combination of bizarre rounds and a chairman who's pretending to be out of his depth brought to mind another Radio 4 institution. Is this the new I'm Sorry I Haven't a Clue?
That's a big claim, so let's marshal some evidence. In the beginning, ISIHAC wanted to be a bit like jazz, the chairman would throw out some broad themes, and the comedians would improvise around those, until the feeling was that it was time to move on and find something else to do. Over the years, the programme has ossified and become rather predictable, with the same jokes and the same rounds turning up time after time.
From what we've heard – and we're only basing this on one-and-a-half episodes – It's Your Round has a spark of originality that's been missing from Clue for the past decade or more. Certainly, Angus Deayton has the chairman's role just right, being a bit similar to but clearly different from the great Humphrey Lyttelton. If he were to consign Jack Dee back to Celebrity Big Brother's Reunion, we would not be unhappy. And if he were to bring some new comedians, and some new rounds, with him, that would be excellent.
Zeppotron for Radio 4, from 11 May 2010
Charlie Brooker has created a persona as the Angry Young Man, ever alert for the call to rant against something wrong in the world. And, let's be fair, he turns anger into an art form, making it entertaining to read a 1000-word diatribe against the latest follies of the world, whether that's inconsistent plotting on The Eastenders, Bono from U2 being a bit self-important, or just plain insipid panel games.
Over the past year, Brooker seems to have matured somewhat. He's married that bastion of middle England Konnie Huq, he's stopped writing his television review column after ten years, and his weekly Channel 4 comedy show has been described as "a bit of a mess" and "contains too much Jimmy Carr", though that's probably because Jimmy Carr would be in it if we didn't record it for later viewing and fast-forward through all of his bits.
Has the Emperor of Snark lost his touch? Well, it's a bit difficult to say from this show, because it's only hosted by Charlie Brooker. Ever the gentleman, he lets the guests do most of the running. On the episodes we heard, the panel – for instance, Mark Watson, Holly Walsh, and Rufus Hound – had the vast majority of the time, with Brooker interjecting only to help them tell their stories.
Each show began in the same way, with the "Wrong time, wrong place" round. Here, the panellists told an anecdote where they wish they had been somewhere else. Anywhere else. Rufus Hound regaled the Radio 4 audience with his party trick, of pouring lighter fluid on his hands, and clapping them together to put out the flames, but his friend who lit the pile of fluid got cold feet and the fluid dripped onto the back of his hands and he had to go and find a fishpond.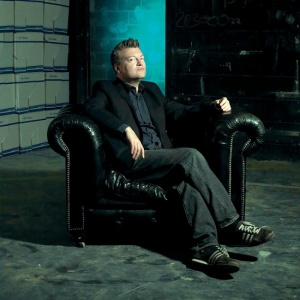 Lord Brooker of Rantsville.
It's a great story, and Rufus tells it far better than we ever could. As, indeed, was demonstrated back in autumn last year, when Rufus told exactly the same anecdote to the viewers of Richard Bacon's Beer & Pizza Club on ITV2. Now, we're not criticising Mr. Hound in any way – it's a good story, he tells it brilliantly, it fit into both shows perfectly well. It's just that it does make us think that So Wrong It's Right is interchangeable with an awful lot of other programmes, in a way that The 3rd Degree and It's Your Round aren't.
"This Putrid Modern Hell" is an excellent name for a round, in which the panellists have free reign to expound on something that's a bit wrong with the world today. Each week also has one or two more tightly-focussed discussion topics, such as the Worst Possible Andrew Lloyd Webber Musical (a round we recall being won by a Mr. Lloyd of Sydmonton), and The Worst Chat Up Line.
As on Brooker's television series You Have Been Watching, points are awarded in a slightly arbitrary and capricious manner, and the game – such as it is – is decided by a quick-fire buzzer round at the end. Really, though, this show amounts to little more than a chance for comedians to tell funny stories. Give the host some short trousers, transport the programme back in time a couple of decades and we could be listening to a Radio 2 light entertainment programme like The Clever Dick-Athlon.
Brooker's wasted on this, he just sits around being nice to people. Ruin his reputation, it will.
This Week And Next
Bad news for Simon Cowell's American operations, as his computers were hacked last weekend. Details of a quarter of a million applicants for his new singing show may have been copied, and the producers had to send out a grovelling email.
"It is possible that the information you did provide to us, which included your name, email address, zip code, phone number (which was optional), date of birth, and gender, may have been accessed. We are taking this matter very seriously and are working with federal law enforcement authorities to investigate this illegal action."
We didn't realise that contestants on this show would need to anonymise themselves for their own protection. Still, that's why it's called The X Factor.
We were pleased to hear that Ratings Bear has enjoyed his hibernation in Australia, and is flying back in his private Bearjet to munch on some underperforming television celebrities. We were going to ask what happened to Patrick Kielty. Then we saw the trailer for BBC Northern Ireland's The Blame Game, and got the answer: hosting Have I Got Regional News (And No Scoring) For You.
Ratings for the week to 24 April, which apparently was Easter week. 9.15m for Britain's Got Talent, 5.2m for HIGNFY, 5.05m for Masterchef. Somewhat lower down, the first elimination show on So You Think You Can Dance appealed to 3.8m, and Who Dares Wins came back to 3.7m. There may only be 2.75m watching The Cube on ITV-SD, but a sixth as many – 415,000 people – are watching in ITV-HD. By comparison, Britain's Got Talent had less than 10% of viewers watching in HD, a mere 895,000. The Great British Wedding Cake had 1.6m on BBC2, and 67,000 on BBC-HD.
Elsewhere on BBC2, Great British Menu has 2m viewers on the non-holiday Monday, and Channel 4's Million Pound Drop to 1.9m. Celebrity Juice suffered from the heatwave enjoyed by southern England, 1.67m people watched the show, and 1.18m saw Britain's Got More Talent. Come Dine with More4 had 650,000 glued to their sets.
It's Eurovision Song Contest week: the semi-finals go out on Tuesday and Thursday (BBC3 and RTE2, 8pm), and the final on Saturday (BBC1, Radio 2, RTE1, RTE Radio 1, 8pm). That means changes to BBC1's Saturday night: So You Think You Can Dance at 5.30 and 7.20, and Don't Scare the Hare goes out at 4.40. Business fans will be pleased to hear about Meindia Dy Fusnes (S4C, 5pm Mon, Wed), in which teams invest in their friends' business ideas. There's also a new series of The Apprentice (BBC1, 9pm Tue, Wed), but no-one cares about that. If you find yourself wondering whatever happened to last year's Big Brother winner, Channel 5 has There's Something About Josie (10pm Mon) to help out. The rest of us can see Impossible? (10pm Thu).
To have Weaver's Week emailed to you on publication day, receive our exclusive TV roundup of the game shows in the week ahead, and chat to other ukgameshows.com readers, sign up to our Yahoo! Group.