Angus Deayton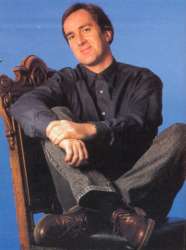 Biography
Comic actor and presenter with a CV as long as your arm. Career highlights include the long-running Radio 4 comedy Radio Active and its TV version, KYTV, reaching number two in Australia as one third of spoof musical troupe The HeeBeeGeeBees with the immortal "Meaningless Songs (In Very High Voices)", playing Victor Meldrew's neighbour Patrick in One Foot In The Grave, making occasional appearances alongside Rowan Atkinson in "Mr Bean" and of course chairing HIGNFY for twelve years, as well as, more recently, "Before They Were Famous". In 2013, he joined the cast of the popular drama Waterloo Road, which he considers his first "straight" acting role.
Trivia
His long-term partner was Lise Mayer, writer of landmark BBC sitcom The Young Ones.
Before doing Bognor or Bust, Deayton recorded an unsuccessful pilot for an ITV sports panel game (seemingly modelled on They Think it's All Over) called Just Like Watching Brazil.
Among Deayton's earliest appearances on TV was at least one of the Kellogg's Crunchy Nut Cornflakes "the trouble is, they taste too good" adverts. This, among other early (and often embarrassing, for him) appearances were shown on "Before They Were Famous", which he also hosted.
And remember - it's Dee-ton, not Day-ton.
Contact
Talkback Management, 20-21 Newman Street, London W1T 1PG.
Web links
Talkback Management Angus Deayton Page
Feedback