Weaver's Week 2023-03-26
Last week | Weaver's Week Index | Next week
Once upon a time, not so long ago, there was a popular music quiz on Radio 2. Then the format owner left the station, took his toy with him, and everyone wondered what was going to happen next.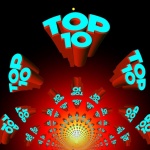 Ten to the Top
BBC Studios for Radio 2, from 6 March
Ten to the Top is what happened next. It goes out at half-past ten on weekday mornings, in the Vernon Kay Show (currently hosted as Gary Davies' Bit In The Middle while Vernon cuts his hair). Two players, ten questions each, and the prize is a Radio 2 Bluetooth speaker.
We're going to discuss Ten to the Top from two angles. We'll assess it as a quiz, whether it's good or not. And we'll assess it as an item in The Vernon Kay Show, fifteen minutes in a two-and-a-half hour programme.
The basic structure of Ten to the Top is familiar. A contestant gets ten questions. Some of them have musical cues attached. The player has five seconds to give their answer, late answers will be marked wrong without mercy. Answers must be precise, no wiggle room, they won't take "Ant and Dec" for "PJ and Duncan".
Scores are kept in an unusual way. The first question's worth one point. Get it right, and the next question is for two points. Get that right, and the next question's for three points, and so on. But get a question wrong, and the chain breaks, the next question is for just one point. Each player has a joker that they can play on a question to double the points.
Already, we're scratching our heads to recall where we've had such a scoring mechanism before. We're sure that we have had it before, but we cannot for the life of us recall where. Probably one of those daytime quiz shows in the 1990s or 2000s.
With the title "Ten to the Top", we might expect ten questions of increasing difficulty, or ten questions on a very loose theme. No and no: while the first question is usually a bit easier, there's no attempt to make a theme other than "pop music". Perhaps they're saving themed editions for later in the year, when the quiz has become more established.
The questions are wide ranging, at least within the field of pop music. The quiz is centred on Radio 2's target audience, which is now people born in the 1970s, so music of the next three decades. Compared to last month's quiz, there are many fewer questions about frothy punk bands from the 1970s, and more about the dance music and other trends of the 1990s. Less about Matchbox, more about Matchbox Twenty; less Boomtown Rats, more boombox rap. The questions are certainly different, and they may be a little harder than before.
As a contest, Ten to the Top can be over at halftime. When the first contestant notches up an extreme score – close to the maximum of 65, or close to the minimum of 0 – the second player knows exactly how to pitch the game. These extremes are unlikely, but winning scores are generally between 5 and 15 points.
It's more difficult for listeners at home to keep their score, as they've got to pay close attention throughout the quiz. We can't half-listen and shout out the answers we know, we've also got to score the answers we don't know. This column generally scored between 27 and 36 on Popmaster; on Ten to the Top, we're very satisfied with a score of 20.
There's already been a bit of tinkering with the rules: originally Gary said that the joker could be played at any time, but he now says that the joker must be played before the question's asked. Would it be a better quiz if someone could answer with "Joker! 'That don't impress me much'!"? Or would they take "Joker!" as the answer? Better to be clear.
As a piece of radio, Ten to the Top feels like it's a work in progress. The segment has its own imaging – the sounds and theme tune and crashes and wallops punctuate the whole experience. It's loud and vibrant and in-your-face; we suspect that it'll fit more naturally when Vernon Kay's show starts in April.
Lest we forget, The Vernon Kay Show is the driving force behind Ten to the Top. It's one feature on a whole show. Vernon Kay will have two-and-a-half hours to speak to the listeners. 150 minutes to entertain, amuse, inform, enliven, and be his best self. Ten to the Top is just one part of the programme; it's premature to write off the feature before we hear it in context.
The quiz doesn't have the precise playalong factor beloved of the #Popmaster community. As we've mentioned, it's difficult to keep your own score, and Radio 2 have made their own scorecharts to help players. Nor does it have the crescendo at the end – there's no little bonus round, no way to turn the Radio 2 speaker into Radio 2 headphones by (say) naming the act from three of their top ten hits.
At the moment, Ten to the Top sits in its own little bubble, isolated from the rest of the programme. While Gary has mentioned the best score of the week, they've not yet asked the top two players back to decide a weekly winner, or anything like that. We regard this as a decision, rather than a missed opportunity.
They could have devised Ten to the Top as an ongoing soap opera, champion versus challenger in the Countdown style. Or they could run it as a player-versus-machine contest, with bigger prizes so long as someone can reach a target score – see Gary Davies' own Day to Day Challenge, or Per Seconde Wijzer, or The $64,000 Question. However they do it, we'd like to see some narrative develop, whether that's day to day or through the week.
One area they have got right is to pre-record the segment, which we think is done over the internet. Lots of advantages here – no danger of anyone saying anything rude or troublesome on air. With webcams they can make sure nobody's cheating by typing on the keyboard or hearing the answers from Mags at the next desk. The audio quality is much better, and the internet introduces an almost-natural delay while listeners can shout out the answer. No shout-outs, not too much waffle, straight on with the quiz.
They really do need to work on is the tie-breaks, though. There's nothing wrong with a tie-break question before the quiz, revealed if we need it. But that means the tie-break is over in a flash, there's no danger of the feature creeping on past the travel bulletin, coming out the other side of the news, and with the risk that they might force The Jimmy Young Show With Jeremy Vine off air. Someone, please, think of the listeners!
Ten to the Top is a work in progress. It feels like a format they've dreamed up in a bit of a hurry, and it will be refined over the next while. This is natural; even the hugely successful Popmaster evolved from their original ideas. Even Just a Minute evolved from its original idea! The basic idea is sound, and – if it fits into the flow of Vernon Kay's programme – it's probably going to be enough to prevent us from pushing the digital buttons to find The Same Thirty Hits In Squidgy Mono.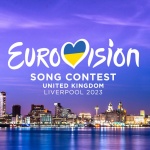 As has become mildly traditional, this column has listened to six of the Senior Eurovision entries. They're the entries from the four anglophone broadcasters, last year's Senior winners, and last year's Junior winners. Two years ago, we called "Embers" a miss; last year we were an early adopter of the earworm that was "Snap".
These are first impression reviews, we watch the video, and put down our thoughts at once.
Dance (our own party) is performed by The Busker. It'll be the second song in the Tuesday semi-final. A lazy jazz groove gives way to modern beats, and a mumbled verse. And a mumbled chorus, too. There's a very visible sax in the video, which puts the singer inside a washing machine, and in a farmyard barn. The band appear to be three-strong, and give off an intriguing minor-key vibe.
Were the semi-finals still judged by jury, we would be writing this off completely: The Busker don't so much sing it as rap in a monotone. But it could perhaps be saved by a good performance – we only lose five songs on Tuesday. Any chance of a life after the show? Not really, it's identikit modern pop, The Weeknd does this sort of thing far better. On the usual three-point ranking, it's a MISS.
We are one is from Wild Youth, and it'll be song six on Tuesday. Remember the guy from last year who hid behind a mask until the last chorus? That's the image Wild Youth are going for, and they keep the mask on through the video clip. It's trying to be angst rock in the verses, uplifting dance in the chorus. Lyric? "We might be different, we might be unique. You might be a leader, I might be a freak." By trying to be universal, "We are one" risks being offensively wallpaper-paste bland.
But this simple sound gets a very simple message across. For the majority of the audience, English is a second or third or fourth language, perhaps understood in smatterings we call Poplish. "We are one" conveys self-doubt and mutual self-assurance. It's either going to soar in and after the contest, or it's going to fail miserably. Sadly, we come down on the latter side. It's a MISS.
Promise performed by Voyager, the closing song for Thursday's semi-final. The lead singer of this rock band has an asymmetric haircut, and sings about "have you never done anything like this before", as if he's auditioning for a new series of Round the Twist. The song turns into an anthem, complete with an "oh-oh oh-oh" chorus. The hook line: "promise me it's gonna be alright" is also perfect Poplish.
And then, like Catra opening the portal, things go all strange and weird for the middle eight, before the chorus comes back a little more nervous, a little stronger than before. The song begs to be heard twice, which will be enough to see it through to Saturday. But the juries vote on Saturday, and they're rightly going to leave this for dead: there's very little vocal capacity shown, the main effects are technical. At best, third quadrant on Saturday and a short-lived burst of fame after, which is enough for a MAYBE.
Évidemment is performed by La Zarra. We don't know where this will appear in the running order on Saturday, but the odds say it'll probably be in the first 18 songs. Opening with a big string crescendo, "Évidemment" leaves us in no doubt which broadcaster it's representing. The solo woman singer uses grand hand gestures and some tremendous vocal trills to get her message across. The song adds a contemporary rave beat for the chorus, it remains for the rest of the song, and the performance loses the starchy formality.
Even if you don't speak a word of French, you'll understand the emotions being conveyed here. Those of us who do (or who have captions) get that it's a song about being snubbed and generally getting over some useless ex. The passion and the vocal arrangement make this song a contender at the contest, and we would be happy to see the credits roll over a winner's reprise. HIT.
Heart of steel comes from Tvorchi, and will be number 19 on Saturday. Two men, dressed in black, playing keyboards in front of laser backdrops. One sings, the other plays his keyboard. Basically, this is the Pet Shop Boys, but two generations younger. It sounds like a b-side from the mid-80s Purlease or Akcherloi era. A grand and slightly nebulous statement of intent, a statement of strength. "Don't care what you feel, get out of my way, cos I got a heart of steel".
Very modern arrangement, jittery and nervous. We can interpret the middle verse as a gesture of thanks from all Ukrainian speakers during the present war; we can interpret the song as a show of defiance, the UA:PBC audience sending a message to itself and to the world. There will be a certain sympathy vote, but we have a nasty feeling this is going to divide juries – expect some 12 points, a lot of snubs. That will negate even the best televote. MAYBE.
I wrote a song will close Saturday's competition, Mae Muller to perform. They didn't get Dua Lipa, but they did get someone who sounds like her, looks a bit like her (well, if you squint enough), and has the same sassy attitude. This is a revenge song heading in the direction of a cheating ex, who can count himself lucky that his expensive car isn't being trashed.
We expect good things from the staging: perhaps not the moment where they tip out a cafe and it turns into a doll's house, but building the house on stage looks achievable. Not convinced by the middle eight, a weird rap break turns into a false ending with not much time before the real end. This feels like a song that could transcend linguistic boundaries, though we can also imagine the staging becomes a hot mess. Potential winner? Unlikely, but possible, so HIT.
Those are the six songs we're reviewing. Other opinions are available – 12 Points from America slated "We are one" last week, ESC Insight tried to find merit in "Dance (our own party)" this week (and we offer thanks for lending us the rating scale), and Simon Harding has a proper pop panel on his Eurovision Show syndicated across many great community radio stations.
And there are 31 other songs we're not going to review. A former winner from Swindon's margarine factories, something exciting from YLE, and our friends in Georgia have sent something … indescribable. Same procedure as every year! This column will try to contain our excitement and not mention the Eurovision Song Contest again until semi-finals week begins on 9 May.
In other news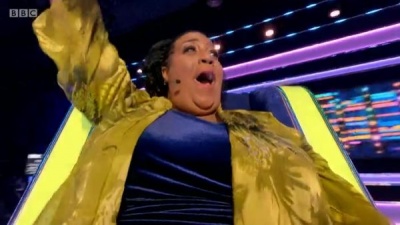 Alison Hammond will be the new co-presenter of Bake Off. Hammond has made smashing television for the past two decades, starting with a picnic table, and carrying through This Morning, and the sorely under-rated The Time it Takes. She replaces Matt Lucas.
Ireland's Smartest is coming to RTÉ1. Hosted by Claire Byrne, the show features lots of general knowledge questions, with extra points for buzzing in early before seeing the options. Ten episodes begin on 2 April; we'll have a review if we get to see the show.
Jacqueline Gold died last week. Best known as the founder of the Ann Summers underwear shops, Gold appeared on 2007's Fortune: Million Pound Giveaway, a one-series wonder on ITV that gave away a million quid to charities and good causes.
Quiz Digest
The Comoros national football side is nicknamed the Coelacanths. Thought extinct for many millennia, they were unexpected qualifiers for the 2021 Men's African Cup of Nations. (University Challenge)
Rohan Bopanna won the men's doubles at Indian Wells last weekend, partnered by Matt Ebden. Bopanna is 43 years old, and becomes the oldest winner at one of tennis's Masters series events. When not playing tennis, Bopanna is a coffee connoisseur, blending his own drink on tour. (Tennis Weekly podcast)
Benjamin Franklin could not manage his own finances, and was overdrawn as often as he had money in the bank. (Strike it Rich from 1986)
Quizzy Mondays
As we might expect from a Mastermind semi-final, quizzing is of a high standard. Our friends at the Quizzy Mondays show thought the answer "Pevensey Bay" would come up in a round on the Norman Conquest. Nay, they asked about the other end of the journey, at Saint-Valery sur Somme. Stephen Finn took that subject and won the contest – 10 on specialist, 23 in total.
Being a column with a long memory, we recall Who Wants to be a Millionaire getting itself in a twist over the official motto of the United States government. Mastermind cut through the confusion with an elegant question. "What four-word phrase was adopted in 1956 as the official motto of the United States?" Your move, Tarrant.
Our sad duty to note the passing of Anna Milford Goldstein, a contender on this episode. And a contender on Mastermind back in the 1970s, a span of competition that will surely never be beaten. Anna was feisty and informed, and the only contender allowed to take a correction with "Oh, damn it, yes".
Link between tonight's two shows is Borussia Dortmund: specialist subject for Blake Robinson on Mastermind, named as the founding location of the Bundesliga on UC.
University Challenge began by mentioning how Jesus Cambridge had never been behind in either of their matches. When UCL picked up a penalty on the first question, we would have thought it's the same story again. But no, UCL's James Salmon buzzed in a lot, was mostly right, and the London side quickly took the lead – and they'd never let it go. 185-115 the final score.
UCL next play Bristol: winner's straight into the semis, loser must fancy their chances against Southampton or Robert Gordon. Durham play Royal Holloway in the other direct match, loser has a really tough ask against a Cambridge college – Jesus or Newnham.
A big week for new shows on Channel 4. Tempting Fortune (C4, Sun) invites people to spend their prize money on overpriced comforts. Celebrity Hunted (C4, Tue) tells Ed Gamble to get lost. Taskmaster (C4, Thu) asks Mae Martin to do something useless.
Some welcome new shows on the Beeb, too. Project Icon (BBC3, Sun) looks for a new singer-salesperson. You Heard It Here First (R4, Tue) is an interesting sound effects panel game. The University Challenge Boat Races (BBC1, Sun), and the final for Loaded in Paradise (ITV2, all week) – we'll have a review next week.
Next Saturday has Dakota Blue Richards on Celebrity Mastermind, Tony Blackburn and Lauren Layfield being innocent on Bridge of Lies, Tomasz Schafernaker on Pointless Celebrities, and Busted on Saturday Night Takeaway.
And there's Future Food Stars (BBC1, Thu), the biggest feedback since Next Level Chef. Don't forget to miss it!
Pictures: Mitre Television / LWT; BBC; EBU and PBS, RTÉ, SBS, FT, UA:PBC, BBC; Hungry McBear
To have Weaver's Week emailed to you on publication day, receive our exclusive TV roundup of the game shows in the week ahead, and chat to other ukgameshows.com readers, sign up to our Google Group.