Wedding Day Winners
(That's a prima facie Flop, I'm afraid.)

Line 20:
Line 20:

:With the help of a celebrity guest list, it's the job of Lorraine and Rob to oversee this confetti-filled contest. They'll encourage the friends and families of each couple to compete in series of hilarious physical games, high adrenalin stunts, and challenges.

:With the help of a celebrity guest list, it's the job of Lorraine and Rob to oversee this confetti-filled contest. They'll encourage the friends and families of each couple to compete in series of hilarious physical games, high adrenalin stunts, and challenges.

-

{{notaired}}

+

{{}}

+

 

+
+

 

+

== Web links ==

== Web links ==

Line 34:
Line 38:

[[Category:Family Game]]

[[Category:Family Game]]

[[Category:Stunts and Dares]]

[[Category:Stunts and Dares]]

+

[[Category:Current]]

[[Category:Current]]

[[Category:Awaiting Review]]

[[Category:Awaiting Review]]
---
Revision as of 18:37, 18 January 2018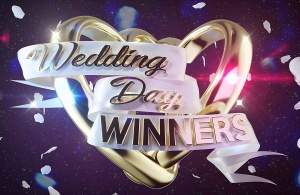 Synopsis
The BBC Press Office advises:
Each week two happy couples, poised to tie the knot, and their friends and family will go head-to-head to win fabulous prizes, a dream honeymoon, and the most extraordinary wedding ceremony ever which will be broadcast to the nation.
There are no losers in Wedding Day Winners. Each couple will come away with a host of prizes, happy memories and above all married to the love of their lives!
With the help of a celebrity guest list, it's the job of Lorraine and Rob to oversee this confetti-filled contest. They'll encourage the friends and families of each couple to compete in series of hilarious physical games, high adrenalin stunts, and challenges.
If you can help us to expand this entry, please provide as much information as possible, using the feedback form below.
Trivia
Viewer reaction to this show was poor, and it fell off the schedule after three episodes. The replacement was another Rob Beckett format, All Together Now.
Web links
Pictures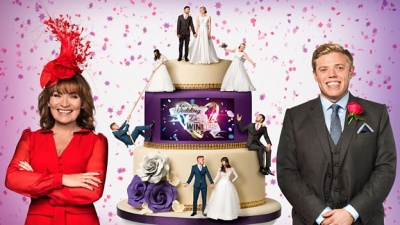 New hat for Ms Kelly!
Feedback