Wedding Day Winners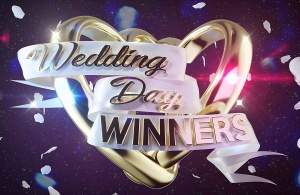 Synopsis
The BBC Press Office told us:
Each week two happy couples, poised to tie the knot, and their friends and family will go head-to-head to win fabulous prizes, a dream honeymoon, and the most extraordinary wedding ceremony ever which will be broadcast to the nation.
There are no losers in Wedding Day Winners. Each couple will come away with a host of prizes, happy memories and above all married to the love of their lives!
With the help of a celebrity guest list, it's the job of Lorraine and Rob to oversee this confetti-filled contest. They'll encourage the friends and families of each couple to compete in series of hilarious physical games, high adrenalin stunts, and challenges.
The show ended up as a bunch of stunts that didn't quite gel. All the cliches of modern weddings were present - bad dancing, food prepared by someone wearing a blindfold, champagne making you feel queasy. Some variety came in filmed inserts, such as Tom Allen's stunts.
Each small game carried a linked prize, a year's supply of Champagne, high tea in Paris. The show was arranged so that each couple would leave with at least one prize.
On their own, all of these elements were entertaining, but the mixture didn't work. The jollity felt forced, as if we were watching this show so as not to offend Auntie Sabrina who we've not seen in decades.
Wedding Day Winners almost redeemed itself in the final quarter hour. A demanding physical game - often involving bungee ropes - determined which couple would get married on camera. The other couple got married during the end credits.
"It's the happiest day of our life," gushed at least one guest every week. That may be, but it's also the dullest hour of our week.
Trivia
Kate Tremain, the on-screen registrar, had previously been a continuity presenter on Anglia TV under her stage name, Katie Glass.
Viewer reaction to this show was poor, and it fell off the schedule after three episodes. The replacement was another Rob Beckett format, All Together Now. The last three episodes returned in the summer.
Voted the Worst New Show in this site's Poll of 2018.
The first three episodes aired weekly, at around 7.25-ish, and attracted "poor" ratings for primetime, averaging 2.2 million. Episodes four and five were burnt off on 21 and 28 July 2018 at 5.05 and 4.30, while episode six aired three weeks later at 5.15. The average viewing figure for these shows was a paltry 691,000.
Web links
See also
Pictures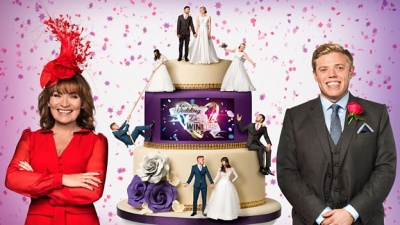 New hat for Ms Kelly!
Feedback