Alan Titchmarsh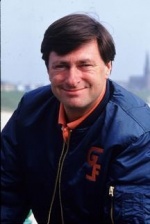 Biography
BBC's Yorkshire-born Mr. Gardening for umpteen years. His TV debut was on 'Nationwide' in the late 70's, in which he made occasional appearances in the 'gardening' slot and he was later given a regular slot entitled 'Titch's Pitch' on BBC Breakfast Time in the mid-80's. He has also, on a somewhat different note, hosted 'Songs of Praise'.
Trivia
Once won an award for writing the year's worst sex scene in one of his books.
He is involved with many charities, and is president of the Gardening For The Disabled Trust and Telephones For The Blind.
Contact
c/o Caroline Mitchell, Colt Hill House, Odiham, Hook, Hants, RG29 1AL.
Web links
Feedback