Am Dro!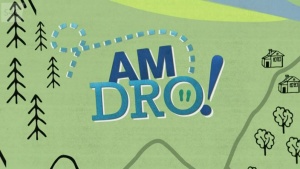 Host
Narrator: Aled Samuel
Broadcast
Cardiff Productions for S4C, 14 January 2020 to present
as Am Dro Cariadon, 20 January 2022 to present
Synopsis
Four walkers from across Wales give guided walks around their area.
Over the course of the walk, the host is expected to include the local history, show off the scenery, and make for an interesting walk. They're also to provide some sort of lunch, and lay on entertainment.
The other walkers will judge the walk on these qualities, and award marks out of ten, in a Come Dine with Me style. Highest score after everyone's led the walk is the winner of the week, and takes the £1000 prize.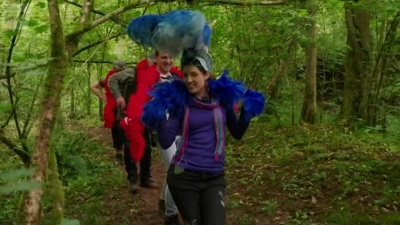 If you go down to the woods today, you're sure of a big surprise.
It's an enjoyable way to pass an hour, shows off bits of Wales we might not consider and other parts that might be close to home. Details of the walks are on the S4C website.
Trivia
English title translated as "For a Walk".
Being outdoors and in the open, Am Dro proved easy to make during the COVID pandemic. Two series were made in summer 2020, shown across the autumn and in early 2021; a celebrity edition was also made. More walking in 2021, with a special shown in July as part of a week on Welsh beaches.
Spin-off series Am Dro Cariadon used the walking series as an excuse to set up blind dates: hikes were one of the few ways it was safe to meet unfamiliar people.
The show was translated into English in autumn 2021, Take a Hike aired on BBC2.
Web links
Feedback