Annabel Giles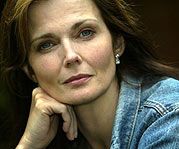 Biography
Expelled from boarding school at 16 with no qualifications, Annabel Giles initially trained as a secretary before landing on her feet as a model, becoming (among other things) the face of Max Factor comestics. She went on to appear on countless TV shows as a makeover expert, proving her worth on Razzmatazz and Going Live before graduating to presenting roles in the early 1990s via Night Network. She was a regular on panel games like You Bet! and Through the Keyhole. After dropping out of the public eye towards the end of the 1990s when she worked on the doomed Radio Viva (latterly Liberty Radio), she returned as a successful author.
She died in November 2023, aged 64.
Trivia
In the 1980s, she was married to singer Midge Ure.
Annabel is one of the few people to have spotted a Gotcha setup on Noel's House Party, leaving the host completely wrong-footed.
Books / Tapes
The Defrosting of Charlotte Small
Web links
Feedback