Through the Keyhole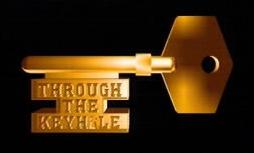 Host
David Frost (1983-2011)
Leigh Francis as "Keith Lemon" (2013-19)
Co-hosts
Loyd Grossman (1987-2003)
Catherine Gee (2004-06)
Lisa Snowdon and Stefanie Powers (2007-08)
Dawn Porter (2011 special)
Dave Berry (Regular Panellist: 2013)
Broadcast
TV-am (insert in Good Morning Britain), 1983-?
Yorkshire Television for ITV, 3 April 1987 to 1 May 1995 (108 episodes in 8 series + 7 specials)
Paradine Productions for Sky One, 22 February to 23 December 1996
(but see Trivia below)
Paradine Productions for BBC One, 5 May 1998 to 3 May 2004 (6 series)
Paradine Productions for BBC Two, 27 February 2006 to 4 June 2008 (65 episodes in 3 series)
bbc.co.uk webcast, 5 to 6 March 2011 (24 Hour Panel People)
Talkback for ITV, 31 August 2013 to 23 February 2019 (41 episodes in 6 series + 6 specials)
Synopsis
Loyd Grossman has one of the most unique, yet most imitated voices on television. It's posh English/Bronx and it does have to be said, if it wasn't for Loyd the show wouldn't be nearly as popular as it was. (And to prove it, it wasn't.)
Loyd treks through famous people's houses looking for clues as to who's house it is. Then the three celebrity panellists (back in the day, you'd be guaranteed either Willie Rushton, Eve Pollard or that bloke from Call My Bluff) by making assumptions and asking questions have to guess who it is.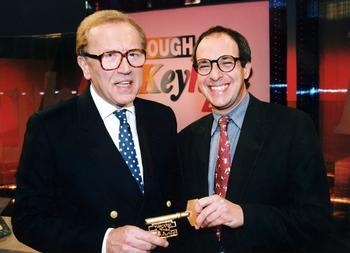 Holding the key to a Frosty heart
This is usually with help from David "Hello, good evening and welcome" Frost and the audience who go into spontaneous clapping fits when they say something that's correct. When they guess who it is or they can't guess we are told who it is and they come out through a giant keyhole and have a chat.
So let's look at the evidence: The spontaneous clapping, the so-simple-it-hurts game element, my voice. Who'd watch a game show like this? "David, it's oeverr to yewww".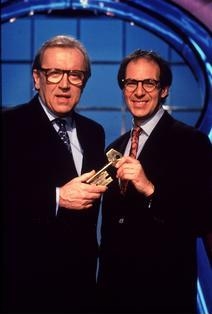 Holding the ke--wait.
By the time of the 2002 series, Loyd had gone off to "concentrate" on his sauces, leaving Catherine Gee from BBC2's Looking For Houses In Picturesque Villages to follow in his footsteps, and she was alright, but she wasn't Loyd. Also she used to do an intro piece at the start of the show about what was coming up, which was really annoying. In addition, getting six series-worth of celebrities to go on a cheap BBC daytime panel show meant that they really had to stretch the definition of 'celebrity'. "Yes, you're absolutely right, it's former Iraqi hostage Ian Richter!"
After David Walliams gave the show a 24 Hour Panel People Comic Relief treatment in 2011, ITV regained its rights to screen the show in 2013 and has decided to juice up the format with "Keith Lemon" (Leigh Francis) as the new host. In this version, Lemon visits the houses himself in character and does various comedy skits. In a development that's actually quite sensible, some of the relevant clues are literally labelled with a CLUE sticker. However, it does feel rather stretched out, especially when you already know the celebrity's identity but they still take a commercial break.
Catchphrases
"And now it's time to meet our panel... and what a panel they are."
"This should tell us something, maybe quite a bit, about the persons that live there..."
"Watch closely because, remember, the clues are there, as we go through... the keyhole."
"Who'd live in a house like this? David, it's over to you."
"And now for our studio audience, but not for our panel, here's whose house it is."
"You be Sherlock to their Ho(l)mes."
Theme music
Original music for YTV version by James Simpson and Philip Pope.
Trivia
The format began as a segment on TV-am in 1983 in which Loyd Grossman was given the keys to the home of a celebrity and Loyd himself had the guess the identity of that celebrity. A spoof edition once featured Peter Cook impersonating Loyd, and looking around Loyd's own home.
One of the most remarkable homes was Quentin Crisp's New York apartment. Famously resistant to any form of housework, the entire flat was covered in clutter and dust, in complete contrast to the home-staged perfection we normally saw on the show.
When Yorkshire Television dropped the show in 1995, David Frost's own company Paradine Productions bought the rights and the next series went out in 1996 where it originally aired weekly on Sky 1, then a year later in 1997, that same series was repeated in BBC1's daytime schedules. From 1998 onwards, new episodes were being made exclusively for the BBC, where it continued to air for a decade.
In 2007, Bad Girls actress Antonia Okonma pretended to live in a £1million flat. However, in fact she lived with her parents in a council flat in North End Road, Olympia. It is thought she borrowed a friend's apartment for the purposes of the programme. The Sun newspaper, who broke the story, also revealed that participants are paid £850, in addition to the famous gold key, to be on the show.
By an unfortunate coincidence, the new Keith Lemon version of the show happened to debut on the very day that David Frost died, though the news didn't break until the following morning.
Wondering why Dave Berry turned up on every programme in the first Lemon-presented series? ITV suggested him as the sort of panellist they could have, and the producers thought they wanted him on throughout the series, a mistake not realised until after the contracts were signed.
A year after Lemon's version ended, Channel 4 experimented with a canine version, with cameras attached to celebrities' beloved mutts. They called it Celebrity Snoop Dogs.
Web links
British Comedy Guide entry (2013 revival)
Opening titles from the BBC Motion Graphics Archive
Pictures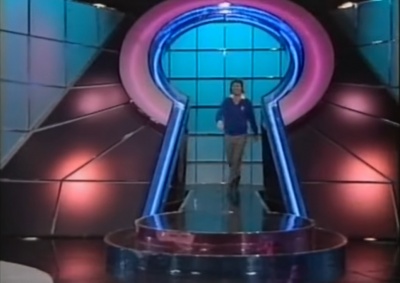 In the 80s, Frost and his guests (here, Stan Boardman) entered the studio though a giant keyhole. Naturally.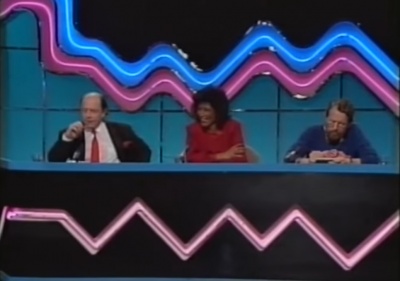 And the panellists' desk featured this key motif. The set designers were really going for it...
(The panel here comprises Alan Coren, Moira Stuart and Willie Rushton.)
Feedback