Bad Chefs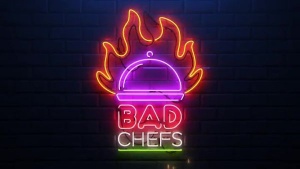 Host
Amin "Chunkz" Mohammed
Broadcast
Lifted Entertainment for ITV2, 26 September to 7 October 2022 (10 episodes in 1 series)
Synopsis
Ten contestants who live on takeaways attempt to become chefs for the very first time and tackle a series of challenges to avoid elimination.
Within the first five minutes, our contestants are challenged to make an omelette. They're given all the ingredients one could possibly need, but no instruction. Nothing written, nothing to emulate, just "go off and make an omelette". It's almost as if they want the contestants to fail and look stupid on network television.
Our contestants quickly learn that they're cooking all of their own meals, with the inevitable problems and tension that will cause. They also learn that the series has a prize, which - after deductions through the series - ended up at just over £25,000.
Each episode's main challenge is to make a meal by following someone else's recipe. A professional cook comes out to Bad Chefs manor, and explains how to make a particular dish. The contestants have a go, eat their own food, and leave a plate for Chunkz and the guest to sample.
The worst chef or chefs of the day are into the head-to-head elimination. It's a quiz, something like to name herbs they've used already, or identify a combination of tastes. Loser of the quiz leaves the contest at once, on the back of a delivery motorcycle.
The next two worst cooks are given extra practice, to make a meal for the rest of the group. Or the contestants can, individually, opt for a takeaway meal. But takeaway meals cost money, £500 from the prize pool. Money can also come out of the prize pool for mistakes in the kitchen round, such as omitting part of the dish.
Eliminate, repeat, eliminate, repeat, until the final meal where the best scoops what's left in the pot.
Bad Chefs never quite knew where it wanted to be as a programme. Did it want to be a feelgood show, taking us on a journey with the contestants, showing how far the winners have come? The final episode said that was the intention, featuring families of the cooks enjoying their work and seeing how far they'd come in ten days. But much of the earlier series was manufactured reality show tension, ill-feeling for the sake of ill-feeling.
It didn't work as a light comedy, along the lines of Come Dine with Me. Dave Lamb's commentary is wry, picking apart the flaws in someone's plan without attacking them as a person. At times, Chunkz's script felt like a personal attack, and didn't always match what we saw on screen.
Champion
Michael
Title music
Sitting Duck, credited as "Composer", with Nick Fenton the "Senior Music Executive".
Trivia
The show was due to air on 19 September 2022, but was delayed a week later to 26 September 2022 due to the death of Queen Elizabeth II.
See also
Celeb Cooking School, a similar show for September 2022.
Feedback