Bruce Forsyth's Big Night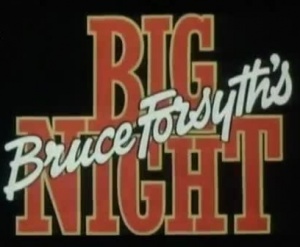 Host
Co-host
Anthea Redfern (some episodes)
Announcer: Robin Houston
Broadcast
LWT for ITV, 7 October to 31 December 1978 and 3 April 1980 (12 episodes in 1 series + 1 special)
Synopsis
Forsyth quit his Gen Game duties at the BBC for The Travelling Music Show in the West End. It closed after four months. Bruce was tempted by LWT with the offer of £15,000 a week to front this £250k-an-episode variety show of epic proportions. Two hours long, it had a moderately successful beginning but had a poor critical review. By the end, Forsyth was reduced to spending ten minutes of one programme trying to disseminate what had gone wrong.
Originally commissioned for 12 weeks, it carried on to the bitter end (contrary to popular belief, it was not pulled in mid-run) but by the time the programme had been shortened and the ratings recovered, the damage was done and it was clear no second series was going to be forthcoming. There was a one-off edition on Good Friday 1980, but we're not sure how much of the original format was retained.
There were many parts to the programme including an early version of The Pyramid Game and, later, All Star Secrets.
Trivia
The dance troupe were "Thirty Two Feet" (containing 16 people, presumably) with choreography by Brian Rogers.
Arguably the most successful part of the show was the sitcom element The Glums, which later spun-off into its own series. It was based on the original 1950s Take It From Here radio scripts by Frank Muir and Denis Norden.
Pictures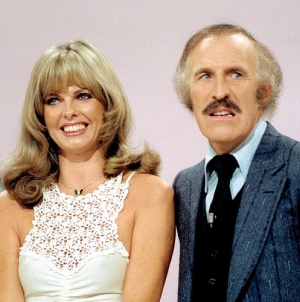 Anthea smiles with glee while Bruce worryingly looks at the producer wondering in how the viewing figures are doing.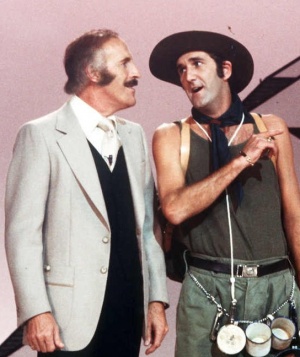 The producer can't help Forsyth on anything at the moment, so he asks Russ Abbott on how to improve the ratings.
See also
Weaver's Week reviewed the first episode.
Videos

The very first episode.
Feedback