Casino Casino
Host
Bob Mercer (casino owner)
Martin Kemp (series two)
Co-hosts
Series 1: Jesse May (commentator), William Byrne (barman), Angel (hostess), Andy Walsh (pit boss), Wuese Houston-Jibo (blackjack), ? (roulette)
Series 2: Victoria Coren (commentator), William Byrne (maitre d'), Wuese Houston-Jibo (blackjack), Tamsin Clarke (roulette), Dino Constantouris (craps), Evelyn Ng (poker), Angel (pit boss), Seli & Selma Mert (bodyguards)
Broadcast
Gag Productions/Talent TV co-production for Challenge, 2003 & 2005
Synopsis
Four would be high-rollers take part in a casino tournament with a potential £20,000 top prize. Each is staked with 20,000 in casino chips (very important lack of currency, here) and they gamble on three hands of Blackjack, five spins on the roulette wheel (with increasing minimum stakes as the game progresses) and finally three more hands of blackjack.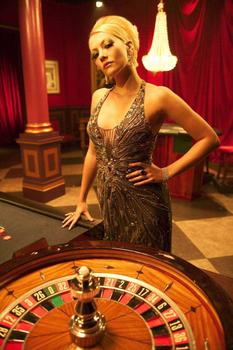 Angel Angel
Whoever has the most chips after the final hand gets to go to Bob the manager's office for a final wager. These usually were nicely inventive games of luck, prediction and (on occasion) skill. The more chips you finished with, the more you would start the next round with.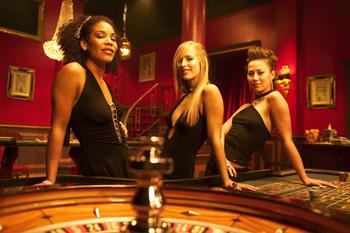 Croupiers croupiers. Yes, we're doing this for all of them.
The ultimate winner got to play a final wager with any of the £10,000 they won for being the tourney winner.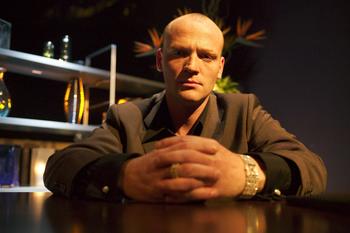 The the manager manager.
Nicely realised casino setting but television rather limits the amount of different games they could possibly play. Half an hour is about right.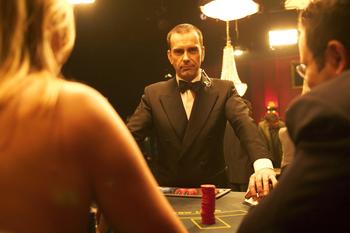 Pitboss Pitboss Andy Andy Walsh Walsh
Series Two
Series two saw some interesting developments, the show has been expanded to an hour and now includes craps and poker, celebrity poker player Victoria Coren is our new commentator and most importantly the new casino manager is none other than hardman actor and ex-New Romantic popstar Martin Kemp, offering the winner of the tournament $50,000 in... GOLD! Ha ha, of course not, but it is strange having a top prize in dollars (representing the fact that the show has been exported to the US).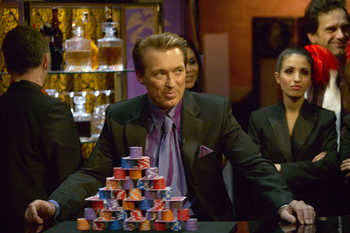 Him him off off Spandau Spandau Ballet Ballet. Wish we hadn't started this now.
It's a bit of a mixed-bag really. The card games come out on top but lack the pace of the previous series (and forcing such comparitively large bets on poker at the end feels tremendously cheap). Roulette feels a bit sidelined, and we're of the opinion that craps is too involving a game with too many different bet selections to make for worthwhile television. Martin Kemp is largely tremendous value though and comes across as highly enjoying playing the highly seedy manager.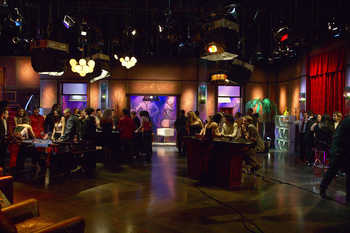 A a wide wide shot shot of of... oh, never mind
Inventor
Simon Goodman, Jerry Glover and Jonathan Webb
Web links
Pictures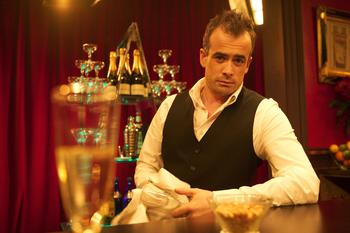 Vodka Martini. Shaken, not stirred.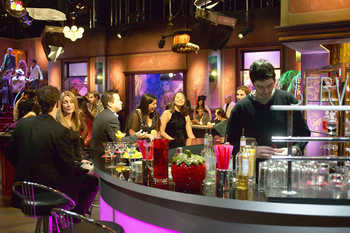 Just enough time for a quick drink.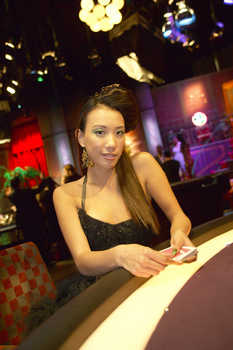 Ready to play Mr. Bond?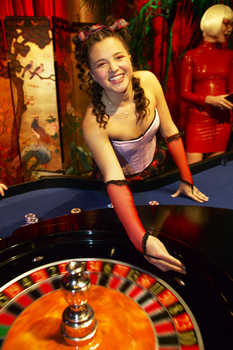 Table closed.
Feedback