Change Your Tune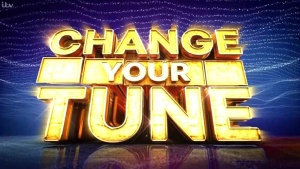 Host
Broadcast
TwoFour for ITV, 1 April to 20 May 2018 (6 episodes in 1 series)
Synopsis
ITV's press office tells us:
Change Your Tune is a new musical game show featuring some of the country's WORST singers who are all hoping to 'change their tune' and win an amazing cash prize.
In each episode, hosted by Baz Ashmawy (50 Ways to Kill Your Mammy), five truly terrible singers perform a classic song for a live studio audience.
After each ear-splitting performance a curtain will fall and the singer will undergo weeks of training to try and improve their voice.
Their transformation is revealed to the audience in an instant as the curtain rises again and they sing to try and win the show. The most improved contestant in each episode will bag a £10,000 cash prize.
And that's about it. We hear the rubbish "before" singing, we hear the adequate "after" singing. How did this miracle happen? Don't know, we're not shown. What are the audience voting on? Prior to the last episode, we didn't know. (Each member of the audience has a keypad, and they score each singer from 1 to 10 based on how improved the singing is. But you'd think they'd have divulged that in the first episode and not left it until the last.)
We might compare Change Your Tune to Davina McCall's This Time Next Year. On that show, someone changes something about their life, and we see their journey in retrospect.
Change Your Tune asks someone to change something, and they only perform for us. We don't get any emotional involvement, and the performances are below those on The X Factor or Britain's Got Talent.
Theme music
A-Mnemonic, credited for "Music".
The show had a house band - David Tench, Bob Knight, Carlos Garcia, Malcolm "Bubba" Mccarthy, Tim Sandiford.
Vocal coaches included Me'sha Bryan, Jennifer John, Gillian McLaren Scott, Jono McNeil, Jai Ramage and Juliet Russell.
Trivia
The show's premiere on April Fools' Day led many to believe the show was an elaborate April Fools' prank. So upset were ITV at said slur (as well as its low viewing figures of 1,700,000 viewers for its first episode and 1,400,000 viewers for its second) that they shunted it back to 4pm from 7pm in time for episode three. After episode four, they rested it for a week, and then episodes five and six aired at 3pm so that Tipping Point could air seven days a week.
See also
Feedback