Cheap Cheap Cheap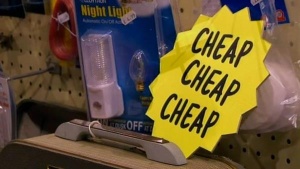 Host
Broadcast
Hat Trick Productions for Channel 4, 14 August to 22 September 2017 (30 episodes in 1 series)
Synopsis
Pairs of contestants are asked a simple question: which of these three items is cheapest? Correct answers allow the pair to climb up a money tree; a single incorrect answer removes them from the game with no prize.
To help, three "tools" are offered. The team can remove the most expensive item, they can reveal the price of a single item, or they can see a question and elect not to play it. Normally, the team would commit to play the question without seeing the items.
The result is a lot of small wins (£1000 the most common amount), a lot of losers, and only rarely does anyone chase after the big money. There's a nominal prize of £25,000 available.
An additional twist was on offer for the £5000 level - if only one of the pair played, and was correct, Noel would up the prize to £6000. With the next prize only worth £7500, here was a thinly-disguised offer to take the money and run.
Noel is assisted by a small comedy troupe. In the world of Cheap Cheap Cheap, Noel owns a general store, managed by Barry. He employs Kelly as a sales assistant, and Marijana is a health and happiness guru. The company is completed by Keith, an odd job man.
Marketed as a cross between a game show and a sitcom, Cheap Cheap Cheap fell into an uncanny valley between the two forms. As a game, it's weak, creating small winners and small losers, and having players come and go at speed.
As a sitcom, Cheap Cheap Cheap went over the audience's head. Subtle humour, a little smutty, a little surreal, and many new characters to get to know. Daytime audiences have grown to expect clear direction - here comes the Tipping Point machine, prepare to cheer. Without a laugh track, Cheap Cheap Cheap left its audience floundering.
Key moments
The following self-deprecation from episode three:
Kelly: So, is this the same game as yesterday?
Noel: Sorry?
Kelly: 'Cus are you just going to do this all the way through, just guess which is cheapest?
Noel: Yeah, that's the game.
Kelly: I don't think people will watch it, Noel, but give it a go."
Trivia
Ratings were parlous, with audience figures falling to 80,000 on some days; Channel 4 had no confidence in its show, and put out the episodes during August 2017, some months after they were filmed, and at 3pm, during the school summer holidays. Press reaction was also more negative than usual.
The supporting cast was Gabby Best as Marijana, Emily Lloyd-Saini as Kelly, Alex Lowe as Barry, and Kiell Smith-Bynoe as Keith. Kelly and Keith did not appear on the last few programmes due to them apparently striking, although Kiell Smith-Bynoe revealed on Richard Herring's Leicester Square Theatre Podcast that he and Emily Lloyd-Saini had in fact been laid low by norovirus.
Inventor
Theme music
Dan McGrath & Josh Phillips
Web links
People who loved Cheap Cheap Cheap really loved it. Our friends at Dirty Feed have an in-depth appreciation of the comedy elements.
See also
Feedback