Class of...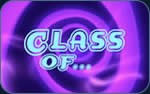 Host
Broadcast
12 Yard for BBC Two, 16 February to 6 April 2002 (7 episodes in 1 series)
Synopsis
Enjoyable nostalgia-based quiz reuniting school classmates from the 1970s/80s and always pitting the men up against the women (two teams of either 4 or 5, we can't quite remember which). Questions revolved around TV shows, toys and games (such as Buckaroo in one case), music and events of the year in question, and the rounds were punctuated by revelations about what the contestants got up to in their teenage years, the appearance of embarassing photos and all that sort of malarkey. It also included two slightly obscure mystery guests relevant to the year, whom the teams had to question in order to work out who it was (this was later revived in As Seen On TV, although thankfully, unlike the latter, 'Class Of...' did not see fit to make their guests dizzy by having them stand on a turntable). There was also music at the end of every show from bands of the time, including Bad Manners on one occasion (probably for a 1982-based show?)
The show displayed a remarkably high standard of question-setting and research, especially considering that the quiz was ostensibly just a structural device to hang the nostalgic content off. Although ultimately entirely frivolous, it was executed with care and good humour, and never made any claim to be anything it wasn't. We like shows like that. It definitely deserved at least one more series - why on earth did it only last for one?
Key moments
The show always began with an appropriate BBC Two ident from the year in question. Gameshow Marathon later followed their example by always showing the ITV ident relevant to the show concerned.
Feedback