Christopher Biggins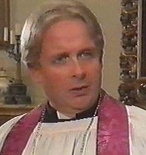 Biography
Once 'Lukewarm' in the BBC jail sitcom Porridge and Adam Painting in the madcap kids' comedy series "Rentaghost", now the grand dame (literally) of the British panto scene. In the 1980s, Biggins was Cilla Blaaaaack's co-host on Surprise Surprise.
Trivia
Biggins is a Derby County F.C. fan.
He has been a guest on many other gameshows, including Tell the Truth, Celebrity Squares, Blankety Blank and As Seen On TV, among others.
He made a cameo appearance as a wedding usher in the BBC's classic 1970's comedy series "Whatever Happened To The Likely Lads?" and he also appeared briefly in "Some Mothers Do 'Ave 'Em".
Web links
Feedback