Don't Hate the Playaz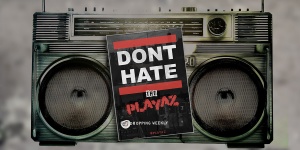 Host
Jordan Stephens
Co-hosts
Team captains: Maya Jama and Lady Leshurr
Regular panellists: Darren Harriott (2018) and London Hughes (2018-19)
Roving reporter: Amelia Dimoldenberg (2018)
Resident DJ: DJ Shortee Blitz
Broadcast
Monkey for ITV2, 11 October 2018 to present
Synopsis
"An anarchic hip-hop music quiz", featuring live performances, comedians, and hip-hop musicians.
Jordan Stephens was everywhere in 2012. He was one half of the Rizzle Kicks, a pop-rap duo who turned up on all the entertainment programmes going. The music career didn't last long, and Jordan's charm brought him a continuing stream of television bookings.
Amelia Dimoldenberg was a student in London. She slid into the DMs of grime stars, and invited them to talk about themselves on camera. Published as the "Chicken Shop Date" series, Amelia accreted a following for her deadpan humour.
Between them, Jordan and Amelia host this panel show. Team captains are Maya Jama (as ubiquitous and hip in 2018 as Rizzle Kicks were in 2012) and Lady Leshurr (a credible rapper); comedians London Hughes and Darren Harriott are regulars, and the rest of the panel is a mix of rappers, grimers, and comedians. DJ Shortee Blitz spins the decks and sounds the airhorns to create an atmosphere.
Jordan asks the teams to do some daft things, in the name of entertainment. The teams might dance along with professional breakdancers, replicating their moves. Including the one where the dancers turn somersaults while leaping over each other...
There are rap battles for children, a group singalong, and a round where Amelia can quietly despair at the petty feuds created for the attention. The teams might rap about their origins, or smuggle as many movie titles in a rap as they can. Sure, these items are rehearsed, and not as spontaneous as they might appear, but a little rehearsal makes for a lot of entertainment.
Don't Hate the Playaz is wonderfully entertaining. It's got the good humour and complete silliness of ITV2 stablemate Celebrity Juice, and it's credible in a way Keith Lemon isn't. The show is shot in a grimy studio, and the audience isn't shy about coming forward and shouting out their opinions.
Series two onwards was 15 minutes shorter, and lost Amelia Dimoldenberg and Darren Harriott. Panels shrunk, too, and each side usually had only three Playaz rather than four. Series three lost London Hughes, presumably because that series was shot during the COVID-19 pandemic and the by then America-based Hughes thought it unworth the quarantine just for an ITV2 panel show, and its audience, because that series was shot during the COVID-19 pandemic.
Key moments
Luisa Omielan's shambolic performance of En Vogue's Don't Let Go - which she followed by laying into the audience.
Jordan wiping the floor with John Humphrys during the "Master Grime" round.
The credits on at least one episode (as in, we saw it on the penultimate episode of series 4, and can't be bothered to check the rest of them) listed an editor as "Amanda Huggenkiss" - she jests, surely?
Web links
See also
Feedback