John Humphrys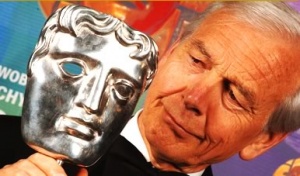 Biography
Welsh-born veteran journalist with a reputation as an abrasive political interviewer. He presented the One O'Clock News, Six O'Clock News and the Nine O'Clock News in the 1980s and 1990s, often alongside working on Radio 4's Today, which he anchored from 1987 to 2019. He also chaired the BBC's 'Family Matters' programme in the early 1990s and still presents a Sunday afternoon show on Classic FM.
Trivia
John was born on 17 August 1943, the same day as actor Robert De Niro.
He was born in Splott, a rather unflatteringly-named area of Cardiff. This place has, however, bred at least one other famous person, namely the Reverend Roger Royle, who has presented Songs of Praise and also a number of religious programmes on radio. Nowadays it's also known to quiz show aficionados as the filming location for Only Connect.
His full name is Desmond John Humphrys, though he has always used his middle name professionally.
In 2004, he launched a withering attack on reality television, saying that "the way to get ratings is to get evil". Eyebrows were raised a year later when he appeared on Art School, itself a, er, reality show. Though (admittedly) not particularly evil.
He got himself quoted in the press again in September 2009 when he told the crowd at a railway industry awards dinner of his reaction on being offered the Mastermind job: "Money for old rope, I thought. I was right as well."
In an interview in 'Radio Times' at the time of Mastermind's 2010 Grand Final, Humphrys rather surprisingly admitted that he wasn't normally a quiz-fan ("I'd rather watch paint dry. But 'Mastermind' is different", he declared). Presumably, he had made similar exceptions for two other shows, namely Call My Bluff and Have I Got News for You. He was a regular and very witty guest on the former, alongside Alan Coren and Sandi Toksvig, and he has been a guest host on the latter.
He has received honorary degrees from the University of Wales, University of Dundee and Abertay University.
He recieved an Outstanding Contribution award (pictured above) at the 2005 Welsh BAFTAs.
He was the only person to have stood in for David Dimbleby on "Question Time" (one edition in November 2009).
He also made a brief appearance on the 2010 series "Giles and Sue Live The Good Life", in which Giles Coren and Sue Perkins were attempting (albeit temporarily) to live a suburban self-sufficient life in the style of Tom and Barbara Good in the BBC's hit 1970's comedy series "The Good Life". The reason for Humphrys' appearance was the fact that he had once given up the rat race in order to become a sheep farmer in his native Wales - and he had failed, so he knew all too well the pitfalls that Coren and Perkins would most likely face.
He lists his recreations in Who's Who as music, hill walking, and attempting to play the cello. His oldest son, Christopher, is a cellist - and John also has a daughter, Catherine, and a much younger son, Owen, who was born when John was 56 and whom he has often mentioned during his chats with his 'Mastermind' contestants.
John's younger brother, the late Bob Humphrys, was a senior sports correspondent for Wales Today. Beforehand, both Bob and John worked together on the current affairs programme Week In Week Out.
Books/Tapes
Devil's Advocate (paperback)
The Great Food Gamble (paperback)
Lost For Words: The Mangling and Manipulating of the English Language (paperback)
Beyond Words: How Language Reveals The Way We Live Now (hardback)
In God We Doubt: Confessions Of A Failed Atheist (hardback)
Web links
Feedback