Gift Wrapped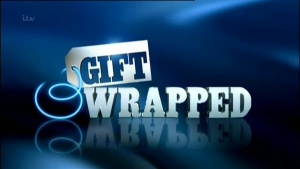 Synopsis
Three couples do battle in a gentle series of list questions. The most successful couple may win a dream holiday and their own personalised wedding gift list.
A very slow opening round asked the players to respond to clues in a category, such as "the last letter of abbreviations". Two passes through the couples revealed just two of the prizes on their gift lists. The remaining prizes came out from completing the missing item on a list of answers.
First two couples to give five right answers completed their lists and made the next round. This was multiple-choice questions with one, two, or all three answers fitting the clue.
Whichever couple won this round could play for their prizes. One person named items in a category, the other tried to name the category from the answers read back to them. In addition to the five prizes on their list, the pair would play a sixth question for a holiday.
There were holes in the format - even if the winning couple lost the five prizes on their list, they could still win the holiday. And there were holes in the presentation, too little conversation with the newlywed couples. Mostly, it needed an audience for Eamonn Holmes to bounce off - he's not at his best in monastic silence.
Inventor
A 12 Yard format developed by Liz Gaskell and James Woolley.
Theme music
David William Hearn, credited for "original music".
Trivia
The show's original title was The Gift List.
Aired as a 5pm summer replacement while The Chase took August 2014 off - its companion The 21st Question was scarcely more successful.
Web links
See also
Feedback