Ruth Langsford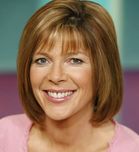 Biography
Former continuity announcer and newsreader for the TSW region, who graduated to national daytime telly. Used to be seen on those TV Travel Shop things, which suddenly closed down a few years ago. She's been a regular presenter on This Morning since 2006 (usually presenting alongside her husband, Eamonn Holmes, when Phil and Holly are absent), and has been both a panellist and an anchor on Loose Women.
Trivia
At TSW, Langsford began as a trainee production assistant (and part-time puppeteer for station mascot Gus Honeybun) before graduating to on-screen duties around 1986.
Following on from TSW's loss of the ITV South West franchise, she had the dubious honour of closing down the station for the final time on Thursday 31st December 1992, alongside chief announcer and future West Country Challenge team captain Ian Stirling.
She began dating Eamonn Holmes in 1997, though they kept their relationship secret for a number of years out of respect for Holmes' first wife (whom he did not divorce until 2005). They finally tied the knot in 2010.
Contact
First Artist Management, 3 Tenterden Street, London W1S 1TD
Web links
Feedback