Graeme Garden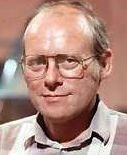 Biography
Graeme Garden, who trained as a doctor but never practised, has worked with Orson Welles and John Cleese.
In TV he is better known as 33.333% of 70s comedy sketch act The Goodies (with Bill Oddie and Tim Brooke-Taylor), and as the longest-serving member and inventor of BBC Radio 4's quiz I'm Sorry I Haven't a Clue. This talent for improvisation was well used in the politically satirical panel game If I Ruled the World... In addition, he co-presented a popular 1980's health-related programme, "Bodymatters", which gave him a chance to use his medical knowledge for once.
Trivia
His son, John, sometimes plays at concerts for Scissor Sisters.
Garden appeared as a pompous university lecturer in a one-off BBC drama, "The Student Prince", which also starred Robson Green, Rupert Penry-Jones, Richard Briers and Stephen Moore.
He and the other two Goodies, along with Jill Shilling, provided the voices and narration for the BBC's 80's cartoon series 'Bananaman'.
Became an OBE in the 2011 Queen's Birthday Honours, alongside frequent collaborator Tim Brooke-Taylor and fellow Star Turn host Bernard Cribbins.
Books / Tapes
I'm Sorry I Haven't a Clue (book)
I'm Sorry I Haven't a Clue 2 (audio cassette)
I'm Sorry I Haven't a Clue 3 (audio cassette)
I'm Sorry I Haven't a Clue 4 (audio cassette)
Web links
Feedback