Hello Campers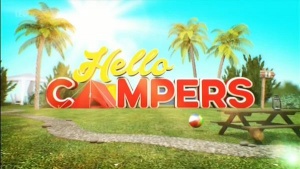 Host
Rosalind Ayres (narrator)
Broadcast
12 Yard for ITV, 27 July to 4 September 2015 (30 episodes in 1 series)
Synopsis
Couples go camping in Europe; the top couple wins £1000.
Five couples are sent packing to foreign parts - the Algarve, the South of France, that sort of place. Over a week, they'll take turns doing two chores - cooking for all ten people, and running an entertainment for them.
But two chores amongst five couples doesn't make an hour, even when we see the players buying and preparing their events. So there's an entertainment laid on, cheerleading or the local water park. The other players do something from the local culture, such as making paella or sketching the landscape.
Marks out of 10 are awarded on a whim - the other players score cooking and entertainment, a cultural expert scores their activity. The day's lowest scorers are obliged to clean the camp, and the top score over the week scoops £1000.
Rosalind Ayres delivers a carefully-enunciated voiceover. The show feels like a disparate collection of things happening to the campers, they seem to go from activity to activity. It sometimes feels like they don't have much fun.
Viewers certainly don't - a million people saw the first episode at 4pm, less than half a million stuck with the series. The mash-up of Come Dine with Me and Coach Trip had nothing wrong with it, but no compelling reason to watch again.
Inventor
Devised by Claire Satchwell and Liz Gaskell.
Theme music
Original music by DWH.
Web links
See also
Feedback