International King of Sports
Host
Helen Chamberlain and Mark Robson
Co-hosts
Commentator: Alan Parry
Broadcast
Endemol UK Productions for five, 15 September 2002 to 7 September 2004 (12 episodes in 2 series + unaired episodes from second series)
Synopsis
International King of Sports is not your normal sports competition. The competitors that take part (well known names from other sports) are either highly-trained sporting professionals, or too stupid to know better (We'll let you work that one out when you read the events). Some of the events in King of Sports are:
3 metre sprint - It's a sprint, and it's 3 metres long. (The sprint, that is)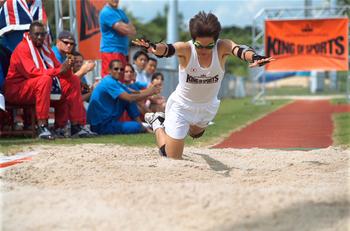 Get ready for the dive.
Association bobbage - Competitors have to jump into a swimming pool without their heads going into the water. The world record for this is 2m 40cms, held by Laszlo Fazekas of Hungary. (This fact was reprinted in the 2012 edition of Guinness World Records. The fact that he was later hospitalised in the headlong dive event wasn't.)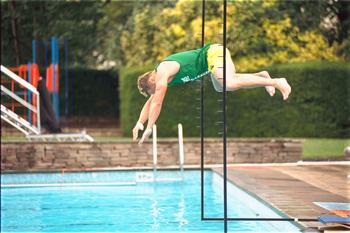 CANNONBAAAAAALL!!!
Backwards 200m - Just for the hard of thinking, this is a race where you run backwards for 200m.
Men's Individual Fall Down - Competitors, on the sound of the horn, have to fall to the floor as quickly as possible. The competitors are whittled down one by one until the man with the most swollen face is the victor.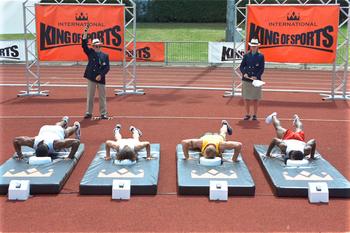 A close heat in the Individual Fall Down
Speed Gun Run - This is where the lack of intelligence comes in. Competitors must run as fast as they can into an upright crash mat. The world record for this is 20.27mph.
Pool Hang - Competitors must cling onto a bar suspended above a swimming pool for as long as possible. The competitor who clings on for longest wins.
International skids - Competitors take a short run up onto a small track, coated with xanthium gum, and they have to skid as far as they can.
10G Human Slalom - Competitors must run down a hill as fast as they can through ten gates. They are allowed to touch the gates, but are not allowed to knock them over.
Trivia
The programme won a Bronze Rose of Montreux in 2003.
Though never acknowledged in the broadcasts, International King of Sports owed a debt to the artist George Maciunas. The "Fluxus" movement he developed championed everyday actions and experiences, and declared them to be just as meaningful as "high" art. A typical Fluxus experience could include such multi-player games as football on stilts, or putting the balloon. The underlying principle was that Fluxus events must be simple, amusing, and concerned with insignificances. A weekend of Flux games took place at Tate Modern in 2008. Further reading.
Champions
Series 1: Adam Horder
Series 2 (broadcast not completed): Jamie Quarry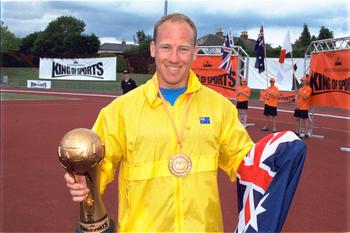 Series 1 winner, Adam Horder
Web links
Pictures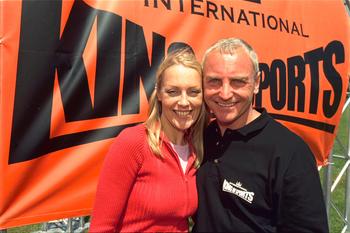 Helen and... the other one
Feedback