It's Not Me, It's You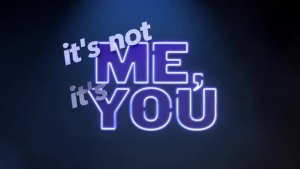 Host
Co-hosts
Kelly Brook and Vicky Pattison
Broadcast
5Production for Channel 5, 23 June to 19 August 2016 (8 episodes in 1 series)
Synopsis
A panel show offering "a series of fun and cheeky challenges", on a loose theme of dating and relationships. Two panels of three play off, each panel is headed by a woman much younger than the host.
It's going out at 10pm Thursday night (or rather was). Any more comparisons with Celebrity Juice?
Regular features included:
"Dealbreakers", where the panel tried to guess whether the audience said something was fatal to a potential relationship.
"You complete me", a missing words round.
"Bonkbusters", form a chain of people who have dated each other.
"Love at First Swipe" challenges the captains to understand someone who has picked from a selection of possible dates.
Additional rounds were invented for each edition, based on the reputation of some of the guests.
Very little that's groundbreaking here, It's Not Me, It's You has a similar feel to Celebrity Juice.
The show is saved by sparkling chemistry between host and panel. Eamonn Holmes wasted no opportunity to take the rise out of himself. Captains Kelly Brook and Vicky Pattison kept the conversation light and frothy, and knew when to let the guests shine.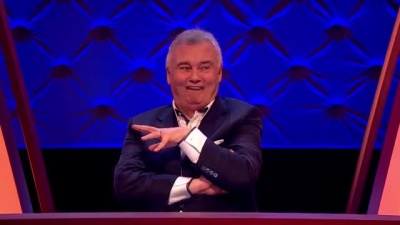 Eamonn Holmes takes the show with due reverence.
Theme music
Music composed by Dobs Vye.
Trivia
Originally commissioned for an hour, the first four episodes ran to 45 minutes. The final four episodes were hacked off even further, down to thirty minutes.
The first series was hammocked between episodes of Big Brother and its chat-show spin-off Bit on the Side. It came off air after four weeks, allowing for additional Big Brother coverage, and came back two weeks later on Friday.
Opening announcements were voiced by Christopher Biggins - he didn't get a mention in the credits. This may be because - for the first week at least - he was appearing on Celebrity Big Brother at the time.
Web links
See also
Feedback