Jamie Theakston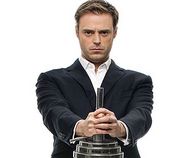 Biography
Jamie Theakston was born in 1970, and became famous mainly for presenting the kids' shows Live and Kicking and The O-Zone. He also worked as a DJ on Radio 1, and has done countless other TV shows. He's done a fair bit of acting too, including being a suspect in an episode of Agatha Christie's Marple, appearing alongside the late Adam Faith in the BBC's 'Murder In Mind', opposite Liza Tarbuck in one edition of the BBC comedy-drama 'Linda Green' and a starring role in the BBC more-sit-than-com sitcom, Mad About Alice.
In January 2005, it was announced that he would present Heart FM's breakfast show, taking over from Jonathan Coleman.
Trivia
He is very keen on skiing.
He has a production company called Ten Ton Productions.
He presented the excellent 2001 show, "The 100 Greatest Kids' Shows", alongside the likes of Hartley Hare, Zippy, George, Bungle and Sooty and Sweep.
He was the narrator on the BBC's documentary series Traffic Cops and Motorway Cops.
Contact
Web links
Feedback