John Leslie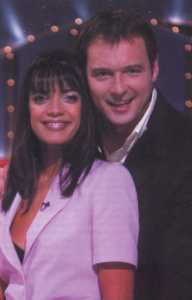 Biography
John Leslie Stott was born in Edinburgh in 1965. After a stint at Yorkshire TV, he landed the job of being one of the presenters of Blue Peter, where he stayed for nearly five years. Apart from Scavengers and Wheel of Fortune, he fronted a few lifestyle shows such as Style Trial, Entertainment Express and This Morning.
In 2002, Ulrika Jonsson published her autobiography, Honest, which claimed that a famous (though anonymous) person had sexually assaulted her. Jonsson refused to name names but a whispering campaign in the press and an unfortunate slip of the tongue by a chat show host linked this allegation to Leslie. Subsequently, other women came forward (some publicly) to claim that they, too, had been assaulted. Although he was cleared of all formal charges in 2003, Leslie was sacked from his then job, co-presenting This Morning with Fern Britton. Ironically, while his career took something of a dive, his girlfriend (nurse Abi Titmuss, pictured with Leslie in the press throughout the allegations and subsequent police investigations) carved out a role for herself as an It Girl and sex kitten. She subsequently appeared in Hell's Kitchen.
Trivia
At 6'4", he was the tallest ever Blue Peter presenter.
He once dated Catherine Zeta Jones.
He is Grant Stott's older brother.
He appeared as himself in an edition of the BBC's late-1990's comedy series "Chambers", hosting a fictional Survivor-style game show, in which the main characters, played by John Bird, James Fleet and Nina Wadia, were competing.
Web links
Feedback