Wheel of Fortune (2)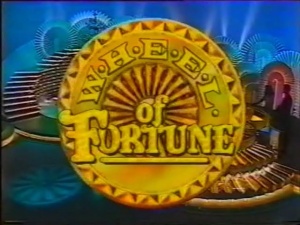 Synopsis
Everyone likes Hangman, right? Everyone likes spinning carnival wheels also, right? Some idiot genius came up with the idea of combining the two for this worryingly seminal word game.
A wall of lit boxes indicated the lengths of the words in the phrase that must be guessed, and a clue was given to what sort of phrase was to be guessed. Players took turns consisting of spinning the wheel to generate a random number of points, guessing a consonant that may have appeared in the puzzle and earning the spun sum of points for each appearance their chosen consonant made, until they spun "Lose A Turn", "Bankrupt" (which also lost them all their points for that round) or pick a letter which didn't appear, all turn-ending crimes. Vowels in the puzzle could also be revealed, but this cost the players points instead of generating them.
On their turn, players had the choice to also attempt to divine the nature of the phrase, a correct guess ending the round and winning a prize, chosen from three alternatives. Repeat four times (double points in the latter two rounds, the last round eliminating all that tiring spinning to save time) and the top scorer got the chance to solve a puzzle with just the appearances of six chosen letters. As with most international versions of Wheel (and the American version until 1988), rather than being given "R, S, T, L, N, and E," the contestant picked five consonants and a vowel. Getting this final puzzle right won the show's jackpot.
The brilliant piece of cunning behind this game is that it was in players' interests to keep spinning and accumulating points for as long as possible before guessing what the phrase was to win the round. In this way it looked like the players didn't know what the phrase actually was; viewers at home almost certainly would have got the answer before the contestants on-screen and could enjoy happy minutes and seconds shouting out at it.
Campbell's corner
Most people will associate the game most firmly with Scot Nicky Campbell, whose easy-going gentle nature brought the show high ratings. The role of the letter-turner (which, incidentally, went to semi-automatic on the US show in 1997) has also earned some degree of celebrity (or should that be notoriety?) from their roles - in particular, former model Carol Smillie is now a mega-celeb thanks to the Wheel and the recent British appetite for DIY makeover shows.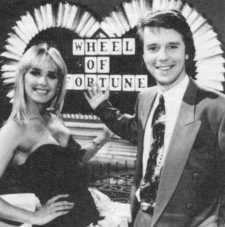 Carol Smillie and Nicky Campbell
Brad's Box!?
When Campbell left to pursue other interests, mainly going back to his DJ roots, seaside-comedian-type Bradley Walsh was introduced to the show in 1997. A few innovations were added to the format, such as Brad's Box - a special on-the-spot prize (for landing on a certain square) which was in... er... a box.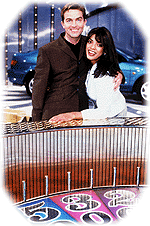 Bradley Walsh and Jenny Powell
The Leslie generation
John Leslie became the host in 1998, after Bradley left to become a father. Brad's Box became Leslie's Luxury! He'd come a long way since his game show hosting debut (Scavengers).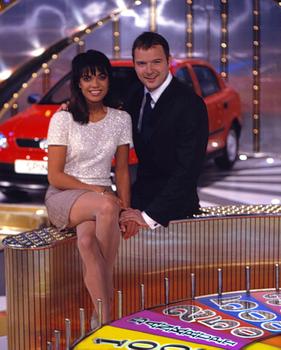 Jenny Powell and John Leslie
The programme's final host was Paul Hendy.
Key moments
When you're a game show host, it's always important to get as much information on the contestants as you can from your researchers before the show, and that's exactly what Nicky Campbell failed to do in an infamous outtake, shown on It'll Be Alright on the Night 10. Nicky did a bit of banter with a contestant about marriage and asked the question "You're getting married soon aren't you?", to which the contestant replied "I'm married now." A second take was made where Campbell rephrased the question to "You got married quite recently didn't you?" and the contestant replied with "Two years ago."
An outtake from the John Leslie era concerned a Royal Navy contestant mishearing John's banter question on if they were based "all over", leading to the contestant assuming Leslie forgot their name.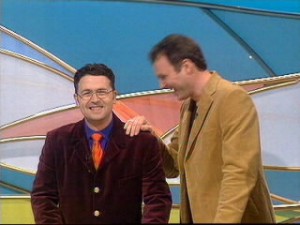 John Leslie sees the funny side
Another outtake from the Leslie era when John Leslie was trying so hard to tell the losing contestants in one episode that they are going home with a Wheel of Fortune watch while also trying to avoid saying "You're not going away empty handed". Needless to say, John couldn't hold back laughing.
Catchphrases
Sign off towards the break - "We'll see you in the spin of a wheel" followed by that hand movement.
At the end of the show: "We'll see you next time around!"
"One spin of this wheel could mean a possible fortune!"
"Let's call up the bank..."
"It's time to leave this wheel behind and go for a possible fortune!" This was later shortened to: "Let's go for that fortune!"
At the beginning of the show, originally: "Wheeeeel o-o-of Fortune!" followed by: "Your host - Nicky Campbell!" or, in later series: "With Nicky Campbell and Carol Smillie!"
Inventor
From the original US game Wheel of Fortune, devised by Merv Griffin.
Theme music
The theme is called Spin to Win by David Pringle and Bobbie Heatlie.
Trivia
Possibly the first ever show to use male models ("Prize Guys") to display the prizes.
Tracy Shaw did a one week stint as co-host to celebrate the 40th anniversary of Coronation Street.
Surprisingly, the final series with Paul Hendy was repeated on ITV1 during the 2004 Christmas period. You could almost hear ITV shouting "Clear!" in the background.
The original host, Angela Ekaette, got the job because Scottish Television were worried about having two Scottish presenters for their first network commission.
Terri Seymour's "permacroak" was caused by damage to her larynx as a result of lupus.
One man managed to spin the wheel the wrong way. It ruined the mechanism and the studio technicians spent hours trying to get it to work again.
Jackpot!
On solving the end puzzle, the contestant won a jackpot prize. This top prize changed from series to series. Initially, it was a choice of three prizes which might include a holiday, a new car or a cash jackpot worth £3,000. The cash award was increased to £4,000 from 1989-92, which was at that time the highest jackpot on British television, the previous highest amount having probably been (albeit briefly) the £3,200 offered on Lingo, but the £4,000 record was beaten in 1990 by The $64,000 Question's £6,400.
When cash limits on game show winnings were abolished in 1991, the prize fund went up to £5,000, then in 1994, the prizes were changed to be a car or £10,000, which was increased to £20,000 from 1995-1998, with the winning contestant randomly selecting the prize by choosing one of two sealed envelopes.
During the daytime series, winners of each round were able to choose from an array of prizes laid out in the studio, such as a CD player, dishwasher etc. The cash prize for the final was dropped to £2000.
Regional transmission details
For the first ten series, the show was broadcast once a week in a primetime slot. For the eleventh series, the programme was moved to a five-shows-a-week daytime slot and it aired at 2.40 each afternoon from 2 March, after the sixth series of Dale's Supermarket Sweep concluded its run. It took a break from 28 May to 10 September 1999. The twelfth series began at the start of the year and lasted until the start of December. During this series, the show's slot varied in different ITV regions. Carlton (London and Westcountry), Grampian and Scottish broadcast it at 5.30. Anglia, Border, Granada, Meridian, Yorkshire, Tyne Tees and Ulster aired it at 1.30 until 31 March 2000, then Friday afternoons only from 18 May to 9 June. Then, from 12 June, it was moved back to five-times-a-week; from 17 July, it was moved to 2.40, so not all the episodes aired. HTV followed Anglia's pattern until 8 May before switching to the 5.30 slot. Carlton (Central) also followed Anglia's pattern until 12 June before moving the show to 5.30. Additional episodes were broadcast by all ITV regions on Sundays during May. During the thirteenth series, all ITV regions broadcast episodes at 5.30 from 2 January to 22 June 2001, before being switched to a Saturday afternoon slot until 4 August 2001. The final thirty episodes (series fourteen) were also networked at 2.40, from 12 November to 21 December.
Merchandise
Waddingtons produced a tie-in board game, which rather bizarrely didn't actually mention that it was based on the TV show.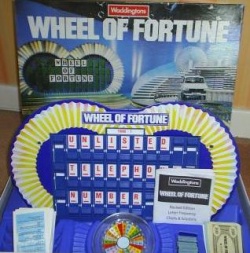 The Waddingtons board game
An LCD handheld game was also available.
Web links
Pictures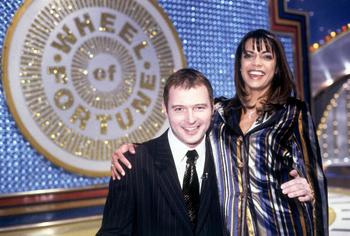 Oh, it's them again! What were their names?
Feedback