Jon Pertwee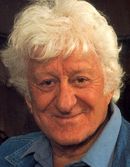 Biography
John Devon Roland Pertwee dropped his third letter while a young actor in the radio series The Navy Lark. He was the third incarnation of Dr Who and the TV face of head-swapping scarecrow Worzel Gummidge.
Trivia
Apparently, he was a talented waterskier.
Cousin of Bill Pertwee.
Brother of actor/writer Michael Pertwee.
Web links
Feedback