Kit Hesketh-Harvey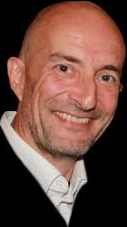 Biography
Born in Nyasaland (now Malawi) in 1957, Kit Hesketh-Harvey was educated in England where he became a member of the Cambridge Footlights. Kit was one half of the Flandersandswannesque musical duo "Kit and the Widow" with pianist Richard Sisson. He wrote scripts for The Vicar of Dibley, wrote and performed classical opera, and often appeared in front of the camera as a jobbing presenter.
Two of his game show credits, House Hunters and Round the Houses, were co-hosts with his wife Katie Rabett.
He died in February 2023, aged 65.
Trivia
Wrote the screenplay for the Merchant Ivory film Maurice.
Was apparently keen on "riding, surfing and mushrooming". Probably some Soho slang we're not familiar with, there.
Was the only person to have appeared in the unbroadcast pilot of QI that didn't then go on to appear in a broadcast episode.
Feedback