Let's Play Darts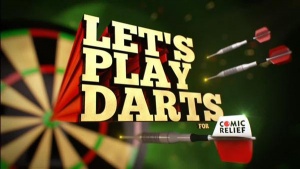 Host
Co-hosts
Tony O'Shea (pundit)
Vassos Alexander and Tony Green (commentators)
Rab Butler (MC)
Nick Rolls (scorer)
Broadcast
Zeppotron (part of Endemol Shine Group) for BBC Two, 1 March 2015 to 13 March 2016 (11 episodes in 2 series)
Synopsis
Professional darts players and comedians team up for a knockout tournament in aid of Comic/Sport Relief.
All the trappings of a professional darts tournament are present. The nervous pre-match interview, the much more relaxed post-match chat. The ostentatious entry to the stage, the rowdy crowd in fancy dress.
One thing was unusual: not all the competitors were professional darts players. Pros had been paired with celebrities, and these pairs took part in a doubles match.
The programme was accessible for people who hadn't seen darts since Bullseye left ITV two decades earlier: an "Idiot's Guide to Darts" explained the basics, and the commentators - Tony Green and Vassos Alexander - reinforced the key messages as they arose. The commentary also included some more advanced thoughts, for people who spend weekends with darts on ITV4.
Matches were best of 9 legs (best of 11 in the semi-final), and lasted up to an hour. With the whole show constrained to a 30 minute slot, the editors had to cut out massive chunks of the action. "Richard and Dita won the next two legs, and we rejoin with Richard 76 points behind", said Gabby almost every night. The show was so choppy it had difficulty setting a clear narrative. The second series was extended to 60 minutes - but contained two heavily edited games.
The show was done in a friendly spirit, players wore microphones so we could hear the on-stage banter. As is traditional in darts, crowd reaction is encouraged, and the celebrities played to the gallery.
Key moments
Roisin Conaty had been erratic throughout her first-round match, but managed to take the game to a decisive final end. Against all expectations, Roisin fired her last dart, hit double-top, and clinched a win that had looked impossible thirty seconds earlier.
Champions
| | |
| --- | --- |
| 2015 | Lee Mack |
| 2016 | Tim Vine |
Participants
2015
The first round results were:
Lee Mack and Tim Vine contested the final, winning semi-finals against Richard Osman and Roisin Conaty respectively.
2016
The first round results were:
Mike Tindall and Tim Vine contested the final, winning semi-finals against Greg Davies and Kate Humble respectively.
Trivia
Recorded at the Lakeside Country Club in Frimley Green, Surrey, under the aegis of the (now defunct) British Darts Organisation. Darts players from the rival Professional Darts Corporation did not appear.
Web links
See also
Feedback