Lip Sync Battle UK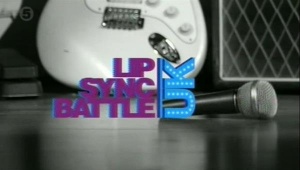 Host
Mel B and Professor Green
Broadcast
Whizz Kid Entertainment for Channel 5, 8 January 2016 to 18 May 2018 (14 episodes in 2 series + 1 special)
(but see Trivia below)
Synopsis
Celebrities mime and perform dance routines to popular songs.
In the half-hour programme, two celebrities each perform twice. A solo effort early on, then a lavish production with props and backing dancers.
The challenge isn't in the singing, but the performance. A winner is determined by the audience's cheers, as judged by the hosts. Which celeb has the better stage presence? Who has the better choreography, or imagination? Who puts on the best show?
Some viewers found this to be a painful watch, as the footage had been processed to add blur on horizontal movement. Intended as an artistic statement by the directors, it caused parts of the picture to lose focus, and it can hurt people's eyes.
Those viewers who could see the show seemed to like it. Modern music presented in a novel way is always popular, and there's always an audience for celebrities making a fool of themselves.
Inventor
Invented by John Krasinski, Emily Blunt, and Stephen Merchant.
Theme music
"20th Century Boy", performed by T Rex.
Trivia
Originally a regular feature on Late Night with Jimmy Fallon. Later turned into the series Lip Sync Battle, made by Spike in the USA and shown in the UK on the Spike and Comedy Central channel. All of these channels are ultimately owned by Viacom.
It's one of the very few shows to actually list its warmup artist in the end credits (Stuart Holdham, if you really want to know).
Channel 5 withheld two episodes each from the first two series and tried to pass them off as a third series. It could be worse - when Comedy Central repeated the episodes, they billed the repeats as new episodes.
Web links
See also
Weaver's Week review, explaining the "progressive segmented video" effect.
Feedback