Weaver's Week 2016-01-31
Last week | Weaver's Week Index | Next week
We heard this morning about the death of Terry Wogan, light entertainer for the decades. A full tribute follows next week.
Would it be rude to call this edition of the Week a Lack-Of-Talent Show Special? Later, we look at what distinguishes X Factor successes from failures,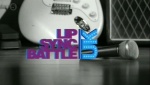 Whizz Kid Entertainment for Channel 5, from 8 January
The concept is simple. Get two celebrities to pretend to sing to pop songs. The audience decides which was better.
OK, there are some slight complications along the way. Each celeb performs twice: one solo spot, where they're looking mean and moody while prowling the stage. And after the commercials, a choreographed dance, with props and backing dancers.
Both of these are interesting tests. The first asks, how much of a stage presence has the celeb got? Can they keep us watching by doing nothing more than mime to someone else's record? And the second asks, how much imagination has the celeb got? Can they re-enact the video clip, or will they deliver a different interpretation?
This different from every other talent show in one simple way. It's not about singing. It's not about dancing. It's a test of showmanship. We don't need to hear David Walliams sing. In fact, we don't need to hear David Walliams at all. Lip Sync Battle is won and lost in the performance, the dancing and choreography.
The show will stand and fall on its performances, and on who they can book to perform. They got a big opening with Alesha Dixon and David Walliams from Britain's Got Talent, but then dropped down at least one league. Jason Manford, Rufus Hound, Katherine Ryan, Vic Reeves, Matt Richardson: all great talents but hardly new faces at 10pm.
Performers from Coronation Street, Hollyoaks, and Phonejacker are scarcely more imaginative. Martin Kemp and Aston Merrygold from washed-up old bands. Carol Vorderman from Britain's Best Envelope. They haven't cross-promoted Big Brother, for some reason. They haven't cross-promoted other top Channel 5 shows, for obvious reasons.
The producers haven't been able to get massive stars (the original has had Beyonce and Justin Bieber). They've relied on comfortable bookings. Yes, it's a new format, and it's unfamiliar, and it's being hammocked by Big Brother. So what. The imported version has spoiled us with A-list stars, this feels like Mock the Week on a night out.
For a programme that relies on showmanship, the production values need to be tip-top. We're not convinced the production is as good as it needs to be. We'll accept the set, reconstructed to the imported original. It's a performance stage with a drinks bar at one side, and Mr. Green spinning the decks on the other. It's got lights in the right places, a balcony, the contenders come out a cloud of smoke through big doors, and the effect is a theatre.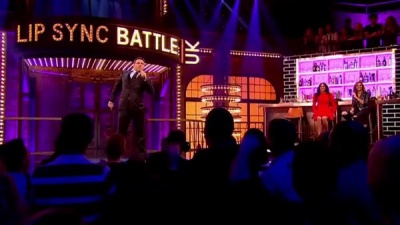 But the rest of the programme falls into an uncanny valley. The original is lavish, no expense spared, and rehearsed to within an inch of its life. We could live with a UK remake that aimed for "a bit naff"; costumes that aren't quite right, dances that miss a step, and barely rehearsed. An unrehearsed performance can bring out something unexpected.
Lip Sync Battle UK falls between the two stools. To re-create the video clip of "Bad blood", Alesha Dixon tried to re-create Taylor Swift's army of feisty women. She got four lieutenants and a motorbike. To re-create "Hello", David Walliams grabbed a phone box and Adele's coat. Let's be fair, the attention to detail is excellent: Mr. Walliams really is wearing the same type of grey fluffy coat as Adele. Ms Dixon really has the same type of motorbike as Swiftie. Jason Manford really does wear an authentic Frozen costume.
But the effect isn't "no expense spared", it's "we've made an effort on the costume, but nowhere else". The performances aren't rehearsed to the last inch, but they are rehearsed enough to lose the spontaneity. The dancers aren't inch-perfect, but they're close enough to perfect to show up the star's inevitable errors.
Many people have complained about the editing. "Are they trying to show us how many cameras they can afford?" asked one wag. "Would actually be good if the camera men could actually do a good job," said another.
So we did some research, and watched Jason Manford's performance of "Let it go" on 15 January. It lasted for 130 seconds, and featured 45 different shots. We reckon it contained footage of at least three different performances edited together. Mr. Manford was missing from nine shots (and barely visible in another), so off screen for about 10% of the clip.
We've also looked at a performance from the Comedy Central show. Anna Kendrick's performance of the pulsing dance track "Booty" contained 33 shots in 78 seconds. The titular star was off screen for about 10% of the clip, most of the absence came when Jennifer Lopez walked out through the smokey doors.
But we can compare "Let it go" to other songs with a similar vibe. "Spring will come" from the 2014 Junior Eurovision Song Contest. Three minutes (of course), 46 different shots, and Sympho-Nick were not the focus for about eight seconds. "A million voices" from the 2015 senior Eurovision: three minutes, 56 shots. Polina's off screen for 10 shots and 25 seconds – but mostly when the backing singers are building to the climax.
So, the facts are that Lip Sync Battle isn't that much different from other singing shows. There is a lot of fast cutting, but that's the style of high-quality performance television these days. You're arguing that they don't go zap-zap-zap on The X Factor? Could it be that XFac has stopped being high-quality performance telly?
One visible difference is that Lip Sync Battle is filmed with an unusual video effect. We're going to attempt to describe it in non-technical language; we welcome corrections from anyone who actually understands this and can tell us where we're talking tosh. (The technical bit ends with a picture of David Walliams on the phone.)
As you may know, most television is made up of "interlaced" lines – the broadcaster sends every second line, making up half of the picture. Then they send the other lines from the next frame. It was a way of getting television to work in the 1930s, and couldn't be changed in the analogue era of cathode ray tubes.
Films use a different way of working. They show complete pictures, one after the other. Television people can try to replicate this with video; they call this "progressive", because it re-draws each frame every time. That, and it makes "interlaced" sound old-fashioned and obsolete.
The problem is that full "progressive frames" look strange on television – we're accustomed to the way things move on "interlaced" video. "Progressive" video is more jerky – especially when moving from side-to-side, along the scanning lines. A wipe across the screen will look more smooth on "interlaced" frames, as there are 50 half-frames per second: the same wipe on "progressive" video will be 25 full frames each second.
To reduce this problem, the Sony corporation built some filters to remove some vertical details and minimise flicker. This is known as "progressive segmented frame" – a "progressive" picture that's had some segments modified.
The net result, according to the director, is that we get "a richer, more 'contrasty' feel to the pictures" and it has "a sexier look". So, they're not using the effect because it makes better video, but because it looks different? Interesting.
The net result, according to viewers, is that we feel queasy. That'll be the "progressive" filming, throwing out half the data, and fiddling with some of what's left. This column didn't have any problem watching the show, but that could be because we watched on a DVR in low-quality, and that discards most of the fine detail. Are viewers watching in HD more likely to feel green?
We did find the programme to be wearing in another way: it's recorded at a loud volume, and it's recorded with very little dynamic range. There's almost no difference between the quiet bits and the loud bits, and the show becomes a bit of a racket.
The fact is that viewers find it difficult to physically watch Lip Sync Battle, and there wasn't a compelling artistic reason for it. That has to be classed as a failure by the production team.
Our problem was with the contents: the show fell into that uncanny valley. It made an effort, but it felt lacking and didn't convince us. For many people, Stars In Their Eyes fell into the same trap last year.
And we didn't have much fun. Ms B and Mr. Green cajoled and harried and forced the show along. Again, we've been spoiled by the original, which feels more spontaneous. When it's doing well, it feels like the celebs do this all the time and we're just dropping in to today's silly session. Here, the show felt more regimented and planned.
When it's done well, the original Lip Sync Battle can make fabulous television, the sort to talk about with friends and at work. The British version felt more tentative, like it was a little less ambitious. With stronger bookings, more rehearsal time, and less grief from the filming, it could still become a hit.
The Obvious Pun Factor
Still with performance shows, the Dallas Observer asks: whatever happens to people who win ITV's NBC The Voice of Texas (And Other Nearby Places)?
And then we heard how Ben Haenow (The X Factor champion, 2014) has been dumped by Simon Cowell's record label. It set us thinking about which talent show winners turn into massive successes.
Let's start with one class, those So Obviously Full of Talent That Even Simon Cowell Couldn't Miss It. Examples include Will Young, Leona Lewis, Rebecca Ferguson. These people are so good that the record companies curse themselves for not signing them in the first place. Unfortunately, such brilliant performers are few and far between.
Another set of successes is The New Version Of Someone Familiar. For instance, JLS (the new McFly), One Direction (the new JLS), Cher Lloyd (the new Kate Nash). These acts may not win the series outright, but they make it most of the way to the final. And they're able to be marketed into a suitable niche, something Simon Cowell is very good at. The acts tend to have short careers, just a few years.
Another set is People Who Some Of The Audience Really Identify With. Examples here include Jedward, Lucy Spraggan, and Gareth Gates. In this group, we include young men who mothers would like to have as their son (or son-in-law). Included as the variety element of the variety programme, they're generally out by halfway. Often outsiders, they inspire deep devotion amongst a small number of fans. Their challenge is to turn that into a sustainable career.
Some acts straddle two of these sets. Alexandra Burke has a lot of Talent, but felt a bit like the New Version of Leona Lewis (and in 2008, we hadn't finished with the old one yet). Little Mix were both the New Version of Girls Aloud (split by 2011) and a gang that girls could identify with and belong to. Joe McElderry is someone to Identify with, and he has bags of Talent – more than The X Factor let him show.
Perversely, these hybrid acts tend not be quite as successful as those in pure categories. The "We Identify" crowd doesn't react well with popularity of "The New Version", and both of these categories need a certain fragility absent from the ever-so-confident Talent.
The X Factor has a transcendent star, someone who has decent talent in his singing. He fills a gap in the market (the Robbie Williams of our days). And he's identifiable, the chap next door, everyone's neighbour. Well done, Olly Murs.
Like the contestants on NBC The Voice of Texas, Ben Haenow didn't fit into any of these success sets. He's not the most talented singer. He doesn't fill an obvious gap in the market, and it turns out he doesn't possess the charisma to have people flock to him. Without these characteristics, it's a short trip to Ver Dumper.
This Week and Next
Crowdfunding effort of the week comes from Louis Barfe. "Open the Box" is a book, telling the story of social change as seen through the medium of game shows. From Take Your Pick to Deal or No Deal via 3-2-1, Going for Gold, University Challenge, Bullseye, and the Collected Works of Bob Monkhouse. Of course this column is interested.
"These very small things fit somewhere on the electromagnetic spectrum, but where?" Welcome to University Challenge, a show more wilfully obscure and deliberately ill-tempered than any other on BBC2. St Catharine's of Cambridge took on St John's of Oxford. The Oxford side took an early lead, and it extended and contracted a little through the show. Catz never looked likely to take the match by the horns, until the very final moments.
St Catharine's pulled back from 65 down to 25 down, got the starter, but dropped one of the bonuses and took a very long time getting it wrong. The quiz gods timed the gong to perfection, just before the next starter could be answered. St John's won by 175-170.
After two months of low-scoring games, it was good to see the contenders let rip on Mastermind this week. Roger Canwell won the heat, he submitted a Perfect Round on the Great Train Robbery, and advanced to 25 points to win the heat. Martin Wightman had set the target at 23, he'd made just one error on his round about the Apollo programme. Austin McHale netted a dozen on the QPR football team, though set a less demanding target. Lorraine Kitchingham took an over-sized specialist subject, and finished some distance behind.
26 points will send anyone through in the final heat, next Friday.
BARB ratings in the week to 17 January.
Call the Midwife is the UK's top show, seen by 9.9m people. ITV's BBC The Voice of Holland of UK was the top game show, with 7.05m viewers.
Pointless Celebrities attracted 5.2m viewers, and cost about a penny per viewer. The Getaway Car brought 4.55m people, and we suspect it cost more than 10p per viewer. Ninja Warrior, on the other side, had 3.75m (plus an unknown amount on ITV-HD).
University Challenge wended on with 3.13m, just ahead of Take Me Out (3.12m). Celebrity Big Brother took 2.85m on Channel 5, with Lip Sync Battle bringing 2.3m. Catsdown returned, 2m on Channel 4.
A League of Their Own brought 940,000 to The Satellite Channel. 620,000 for The Voice repeats on BBC3, 615,000 for Take Me Out The Gossip on ITV2. Come Dine with Me and Four In a Bed both scored half-a-million on More4.
The talent show battles give a clear win to British brilliance: Got What It Takes? on CBBC (240,000) eased past Masterchef Us on Watch (220,000) and triumphed over American Idol on 4Music (85,000).
Does everyone on The Jump (C4, Sun) have a skeleton? Will they all come out in one piece? Come Dine with Me (C4, weekdays) gains a week-long Champion of Champions championship format. The Great Interior Design Challenge (BBC2, Mon-Wed) returns. We're interested in World War Three Inside the War Room (BBC2, Wed), it sounds like Crisis Command Could You Blow Up The World with a side-order of Global Thermonuclear War.
Global thermonuclear war may put a spoke in BBC1's coverage of the Six Nations next Saturday, there's no Pointless or Getaway Car scheduled. But even if civilisation as we know it does come to an end, Celebrity Big Brother finishes (C5, Fri).
Photo credits: Whizz Kid Entertainment, Syco / Talkback Thames, Initial (an Endemol company).
To have Weaver's Week emailed to you on publication day, receive our exclusive TV roundup of the game shows in the week ahead, and chat to other ukgameshows.com readers, sign up to our Yahoo! Group.