Masterchef
Host
Broadcast
Union Pictures for BBC1, 2 July 1990 to 27 August 2000
Union 175 for BBC Two, 3 April to 3 July 2001
Junior Masterchef: BBC1, 14 August 1994 to 1 August 1999
Synopsis
Three amateur chefs aim to try to put together as pretentious a meal as possible in two-and-a-half hours. This includes a starter, a main course and a dessert. They are allowed to spend £10 on any food they desire to make their meal. And that's it. The winner of each regional heat goes through to a semi-final, and those three winners go through to the final where the winner is crowned 'Masterchef 19XX'. (Luckily, Masterchef was Millennium Compliant.)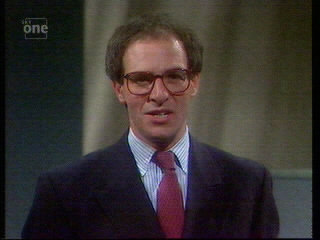 And so, it's ouveer to the cheafs.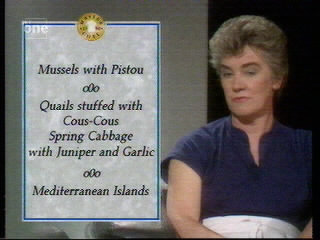 Just the soup of the day for us, thanks
There are usually two special guests on the show, a popular chef and any old television celeb. They talk to the chefs whilst they are cooking, asking them questions, commentating, whatever. Together with Loyd they each taste all the food, commenting on the good points, only to secretly bitch about it behind the contestants' back whilst judging.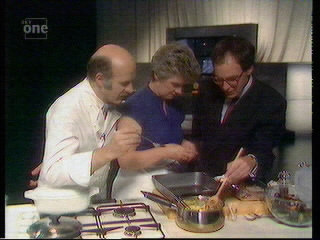 Do it for me.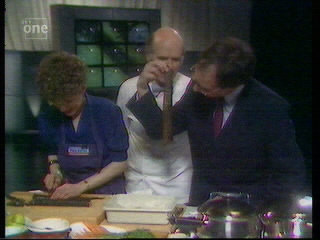 What's that?
Amidst some controversy and backbiting - mainly from the sacked presenter - the show was shunted over to BBC Two with new host, professional chef Gary Rhodes installed. The format was now rather different. Only two courses are prepared and each contestant must use the same key ingredient in each. Although this restricts the variety of dishes, it does make it a fairer contest and there is less need for the constant recapping of menus needed in the original version.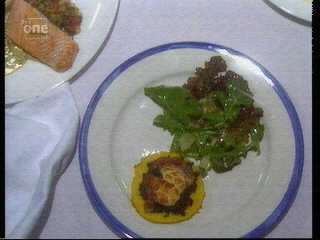 You won't see quality like this in the reboot.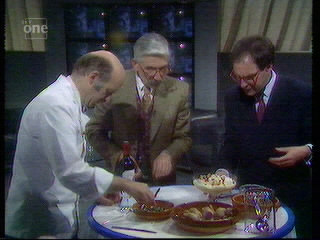 The test everyone dreads...TASTING!!!
Also, there was now only one studio guest rather than a celeb-chef combo but again the show doesn't seem that worse off without it. Likewise, there is no plastic dummy version of Loyd dressed up as a butler. See, not all progress is a bad thing.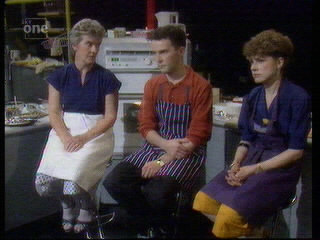 Where are my heartbeats?
Champions
Masterchef
1990
Joan Bunting
1991
Sue Lawrence
1992
Vanessa Binns
1993
Derek Johns
1994
Gerry Goldwyre
1995
Marian McFarlane
1996
Neil Haidar
1997
Julie Friend
1999
Lloyd Burgess
2000
Marjorie Lang
2001
Rosa Baden-Powell
Junior Masterchef
1994
Kate Targett-Adams
1995
Jenna Tinson
1996
Lucy Wright
1997
Serena Martin
1999
Dominique Fraser
Neither series ran in 1998.
Key moments
Loyd going "Mmmmmmm..." for ages over all the dishes during the tasting, rubbing your noses in it, because he knew full well Masterchef went out at 5pm and it would be at least another hour before Mum had made your tea.
Catchphrases
"We've deliberated, cogitated and digested."
"...So let's get cooking!"
Also, not exactly a catchphrase, but a "big green 10" used to appear on the studio's video screen to indicate ten minutes cooking time remaining. At first, Loyd referred to this as "the big green 10" but later on he would avoid using the word "green" and compare it to a different green vegetable each week - "aparagus-coloured", "petit pois-coloured", etc.
Inventor
Franc Roddam, whose other claims to fame include directing the 1979 cult movie Quadrophenia and creating the drama Auf Wiedersehen, Pet.
Trivia
There was a junior version of the show, imaginatively monickered Junior Masterchef. Here, the contestants only have to make two courses (wot, no starter?) They are given two hours and, yes, the menus were still pretentious.
1994 finalist Ross Burden went on to be a regular on the Fern Britton-era Ready Steady Cook.
On a somewhat dissimilar tip, the inaugural Junior Masterchef, Kate Targett-Adams (now Katie), turned her back on a career in cuisine and is now a popular singer on the folk music scene in China.
Just before the 1991 Grand Final, there was some speculation in 'Radio Times' as to whether the series should be renamed 'Mistresschef', given that the first winner had been female and so were all the 1991 finallists. This idea presumably continued into 1992, when there was another female victory, but was of course disproved a year later when all three 1993 finallists were male.
Gary Rhodes also hosted a short-lived American version of the show.
Merchandise
Masterchef: the Best of British Cooking by Loyd Grossman
Web links
Amateur cooking competitions - article by Andy Lynes includes his experiences of the Masterchef selection process and the show itself.
Pictures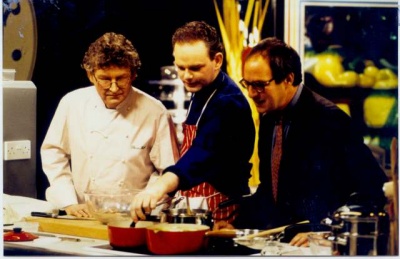 Loyd (right) with guest chef Shaun Hill (left) and contestant Andy Lynes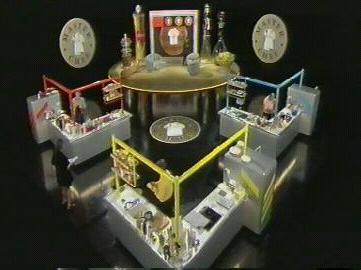 The studio layout.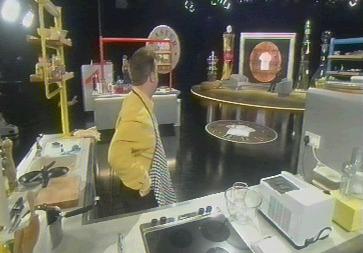 Where are my melons?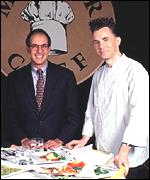 Hosts collide.
See also
Futurecooks - a forerunner of the Junior version.
Feedback