Michael Miles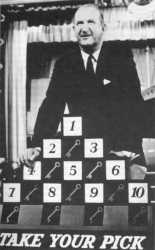 Biography
A Kiwi by birth, he worked as a broadcaster in Australia and Singapore before moving to England.
He was noted for his quick wits, which made him ideal for a people show like Take Your Pick. When the show was cancelled due to the reorganisation of the ITV licences, Miles went on to host a show called Wheel of Fortune (no connection with the famous US show).
He died in 1971, aged 52.
Trivia
He suffered from epilepsy, which made the viewers think he was drunk. This may explain why he once crashed his car into a shop front in Bournemouth.
He earned £20,000 per year doing Take Your Pick.
Web links
Feedback