Nick Owen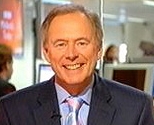 Biography
Nick began his broadcasting career at BBC Radio Birmingham and ATV, but is best-known for his years on the TV-AM sofa with Anne Diamond. The pair defected to the BBC in 1992 and hosted the Good Morning programme for four years. Since that programme ended, Nick has hosted the television news for BBC Midlands.
In 2006, Nick Owen was awarded the Royal Television Society's Baird Medal for lifetime achievement.
Nick is not to be confused with former ITN and now BBC newsreader Nicholas Owen.
Trivia
He appeared in two special editions of The Krypton Factor during the 1988 Seoul Olympics, 'Presenters versus Competitors', along with fellow sports-and-quiz hosts, Dickie Davies, Alison Holloway and Elton Welsby. The presenters won, and Owen was very pleased to have come second only to the swimmer David Wilkie on the assault course - which was no mean feat, even though Wilkie had retired from competitive sport a decade earlier.
He auditioned for Catchphrase. In a 2020 tweet, he said "It was between me and Roy Walker in the end. The producers got it right, I have to admit!"
Books / Tapes
In the Time of Nick - autobiography (hardback)
Web links
Feedback