Dickie Davies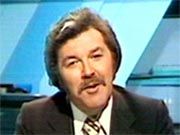 Biography
The host of ITV's Saturday afternoon World of Sport programme from 1968 until the show came to an end in 1985. He was the channel's public face of sport, and was an obvious choice to host quiz shows related to games and pastimes.
He died in February 2023, aged 94.
Trivia
Quirky band Half Man Half Biscuit wrote the song Dickie Davies Eyes about him. Except it was about advertising and the work of Roger Dean, and not the voice of sport at all.
He appeared in two special editions of The Krypton Factor during the 1988 Seoul Olympics, 'Presenters versus Competitors', along with fellow-sports and quiz hosts, Nick Owen, Alison Holloway and Elton Welsby. The presenters won!
Web links
Feedback