Play to the Whistle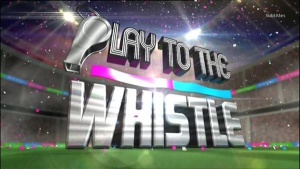 Host
Co-hosts
Team captains: Bradley Walsh and Frank Lampard
Regular panellists: Jimmy Bullard (2015) and Romesh Ranganathan
Scorer: Seann Walsh
Broadcast
Hungry Bear Media for ITV, 11 April 2015 to 4 April 2017 (20 episodes in 3 series)
Synopsis
A sports panel show.
Holly, Bradley, and Frank are joined by guests from the worlds of sport, comedy, and ITV entertainment programmes. They are given daft things to do, such as drive a golf ball round the studio before getting it in a hole.
A recurring skit was "Gooooooooooooooooal", players pronounce the word for as long as they can without drawing breath.
Seann Walsh (comedian) sat in a tennis umpire's chair, to referee (or commentate on) the games. Jimmy Bullard (footballer) appeared in each show, and Romesh Ranganathan (comedian) was on Frank Lampard's team each week.
Points are awarded, a winner is declared, and everyone continues as though nothing had happened. The show was very slight: something to watch between Britain's Got Talent and Match of the Day. Reviewers suggested that it wasn't as funny as it might have been.
Theme music
Paul Farrer
Trivia
Made by Dan Baldwin's company Hungry Bear Media. Dan is married to Holly Willoughby.
The show's booking policy was representative of television at the time: only ten of the nineteen non-compilation episodes contained a woman other than Holly.
Three weeks prior to broadcast, sponsorship for this programme (60 seconds of accreditation per 45 minutes) was available for £316,000 (excluding Scotland). Now we know how much Flamingoland paid.
External links
Feedback