Pot Black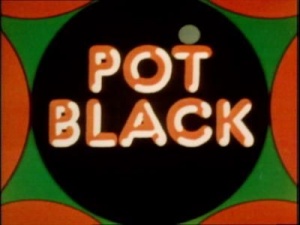 Host
Keith Macklin (1969)
Alan Weeks (1970-84)
David Icke (1985-86)
Eamonn Holmes (1991-92)
David Vine (1993, 1997)
Hazel Irvine (2005-07)
Dermot O'Leary (Celebrity Pot Black)
Co-hosts
Referee:
Sydney Lee (1969-80)
John Williams (1981-86)
Commentators:
Ted Lowe (1969-97)
John Spencer (1991)
Willie Thorne (1992)
Dennis Taylor (1993)
Clive Everton (1997)
John Parrott (Celebrity Pot Black)
Broadcast
BBC Birmingham for BBC2, 23 July 1969 to 17 April 1986
White Rabbit Productions and BBC Pebble Mill for BBC1, 2 September 1991 to 20 October 1993
White Rabbit Productions for BBC One, 29 October 2005, 2 September 2006 and 6 October 2007
as Junior Pot Black: BBC Pebble Mill for BBC2, 1 May 1981 to 21 July 1983
White Rabbit Productions and BBC Pebble Mill for BBC1, 20 to 30 August 1991
as Pot Black Seniors: White Rabbit Productions for BBC2, 3 to 14 March 1997
as Celebrity Pot Black: White Rabbit Productions for BBC Two, 15 July 2006
Synopsis
Commissioned in response to David Attenborough's request for something to show off the BBC's snazzy new colour transmission, Pot Black was a series of single-frame snooker games in a knockout format. Of course, back then there wasn't really any such thing as professional snooker, and Pot Black's artificially restricted, made-for-TV format means it just sneaks under the wire here.
Of course, it's largely thanks to Pot Black that within a few years snooker had grown beyond the confines of the gameshow into a hugely popular sport, which ironically was the undoing of the show that started the ball rolling (with backspin and just a hint of side, natch). Out went Pot Black and in came Pot the Question. Which most people reckoned was foul... and a miss.
There was a brief revival in 1991. The Junior version was also revived in 1991 with a tyro Ronnie O'Sullivan winning it. In 1992, it transmogrified into Pot Black Timeframe which saw players running around the tables as - if we recall correctly - they had a limited amount of time, like in chess (an innovation well ahead of its time; in fact, over a decade before the Premier League Snooker tournament introduced a similar timed format). This series was won by Neal Foulds. Allison Fisher, then the top ladies player, also took part. Eammon Holmes hosted all those versions.
In 1993, David Vine hosted the series played at Pebble Mill, with normal snooker instead of Timeframe. Steve Davis won a record 4th title beating Mike Hallett in the final. Steve James had the highest break with 101.
There was also a Seniors Pot Black in 1997 which Joe Johnson won. The tournament was for players over 40, ones who retired or were still playing professionally. David Vine hosted and it was on BBC2 sometime in March 1997 at teatime.
There was a one-day Pot Black Championship played to the same rules as the original in October 2005, which for a while become an annual event. These programmes were shown during Grandstand (or the Saturday afternoon sports programming block, now that Grandstand's bitten the dust) rather than as a series in their own right, but they did play for the original trophy. Which is nice. There was also a one-off celebrity version for Sport Relief 2006, with a snazzy (if rather daft) snooker-as-martial-art title sequence, won by the pairing of Steve Davis and Vernon Kay (over Ronnie O'Sullivan and Bradley Walsh).
Inventor
Philip Lewis
Theme music
George Botsford's "Black And White Rag" as recorded by Winifred Atwell in 1952, on a specially de-tuned grand piano. (NB. Not her famous "other piano", which she didn't acquire until later.)
Trivia
Frames were played to the bitter end even if someone was miles ahead, hence they'd always "pot black".
The programme was usually recorded in the week between Christmas and New Year, for broadcast the following summer.
Merchandise
The BBC published countless tie-in books.
Web links
Feedback