Reality Bites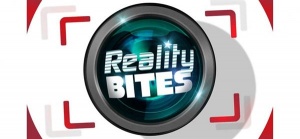 Host
Co-hosts
Team captains: Emma Willis and Joel Dommett
Broadcast
Hungry Bear Media for ITV2, 5 February to 12 March 2015 (6 episodes in 1 series)
Synopsis
Two teams of celebrities are given silly things to do based on the world of reality television.
Reality Bites takes its inspiration from the memorable side of reality television. An episode might have the players throwing eggs at a Simon Cowell impressionist. They might be challenged to describe a bonkers American format. And they might be asked to guess if anyone remembers an obscure contestant from The Apprentice four years ago.
Regular rounds include:
Fly on the Wall - a celebrity dresses up as a human fly, and pushes buttons on a wall. These lead to games dreamed up by the production staff.
Reality Star in a Reasonably-Priced Bar - someone who was once on a reality show goes into a bar: how many people will recognise them?
Where the Hell am I? - blindfold players and put them into a reality show scene.
The Real World - talk about a foreign reality show.
Big Fact Hunt - true or false statements about a reality show regular.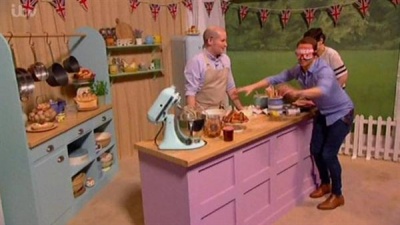 You are in The Great British Bake Off set, with star baker Richard Burr.
All of the formulaic elements of television panel games are here. Two teams of three, yes. Large characters, yes. A round where players are blindfolded, yes. A result that will be forgotten before the audience leaves the studio, that too.
Reality Bites casts its net widely - many of the shows it covers are not competitions, and a lot of shows that are contests seem to be Big Brother. It's not demanding television, and uses its slot around 11pm to be risqué. When they get a great set of guests, a great show emerges.
Theme music
Paul Farrer
Web links
See also
Feedback