Reborn in the USA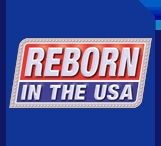 Host
Broadcast
Granada for ITV1, 8 March to 26 April 2003 (8 episodes in 1 series)
Synopsis
Cashing in on the success of Popstars and Pop Idol, the idea behind Reborn in the USA was to give faded popstars the chance of a rejuvinated career. The overall winner won a record contract.
We would follow our stars on the tourbus round various cities. They would then sing a song of a style associated with that city to a packed American crowd. At the end of the show, the Americans would vote on their favourites. The top finishers of the venue vote could get straight back on the tourbus. The two least popular would be put to a British public vote, the loser of which getting thrown off the show.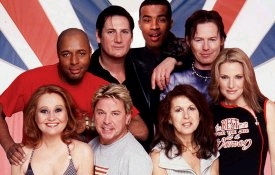 Not even minor controversies such as David Van Day (of Dollar and burgers fame) arguing with just about everyone could really save the show.
Peter Cox (of Go West fame) and Tony Hadley (of Spandau Ballet fame) still managed to sell out venues touring about a year after, though. We're personally upset that Sonia didn't do a bit better.
See also
Merchandise
Reborn in the USA: The Official Inside Story (paperback)
Feedback