Pop Idol
Synopsis
A light-entertainment talent contest rehash that quit whilst it was ahead. The thing that (almost) saves it is that it will be rehashed again in the future.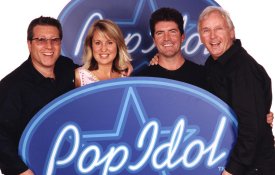 The judging panel - Fox, Chapman, Cowell, and Waterman
The two-headed presenting monster Ant & Dec laughs at stupid auditionees then charges extortionate phone rates to vote off the least bad of the final 10 contestants. Voting people off on a weekly basis suddenly became cool, and any light entertainment formats that didn't employ this concept from that point onwards were immediately prohibited by state law.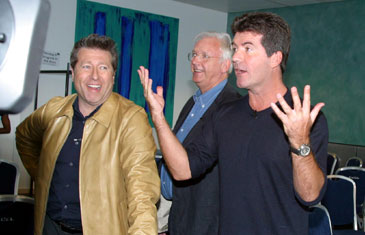 Fox: How did Waterman get this gig? Cowell: Dunno!
To be fair, this wasn't bad. A good 10 million persons were transfixed, and it's fairly obvious that this show set the audition-and-vote theme in motion. The replications to which we've been treated since now stretch to such themes as politics, cookery, ballroom dancing and bouncing pens off heads. Ant and Dec were good at what they did (and ITV say they still are), and the judges bickered upon request, which is also now law.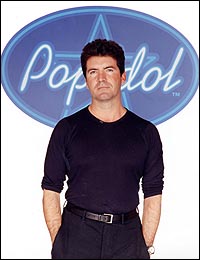 Cowell sulks in despair.
One trend that this show still didn't manage to break was the immediate disappearance of most of its finalists and champions, with the notable exception of Will Young, who still proceeds to torture us all to this very day.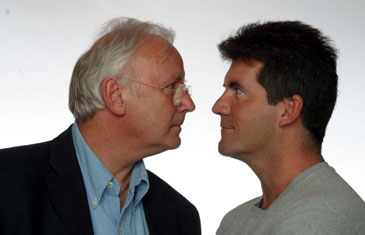 The highlight of the show - Waterman and Cowell's staring competition
An international edition, World Idol, aired on Christmas Day 2003 and New Year's Day 2004. Ten national versions sent their champion and a judge to the London recording - for the UK, Pete Waterman was on the panel, and Will Young performed. Local hosts were used, apart from the USA, who preferred Ant and Dec to Ryan Seacrest. The contest was won by the Norwegian entrant, Kurt Nilsen, whose voice shone through despite not being much of a looker, shall we say? Unless you like that kind of thing. Overall, the show will be best remembered for runner-up Kelly Clarkson, inaugural winner of American Idol, for having the disappointed look of a thoroughly slapped arse.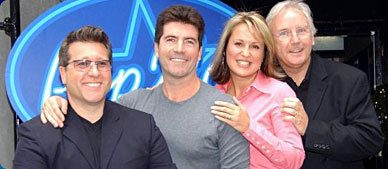 The judging panel - Fox, Cowell, Chapman, and Waterman - having decided they are more important than the name of the show
Inventor
Simon Fuller
Theme music
Cathy Dennis
Winners
2002: Will Young
2003: Michelle McManus
Trivia
And now a tedious technical note: Pop Idol was shown on 42 different calendar days. Thirty of these days had a performance show and the result of the vote later in the evening. The episode count doesn't include Pop Idol: The Story So Far, a preview of the live finals shown on 13 December 2001. Nor are we counting a profile of Will Young shown two weeks after his win, or an April 2002 spin-off show from the live concerts.
Mark Rhodes and Sam Nixon were the series two second and third places.
Web links
Feedback