Remotely Funny (2)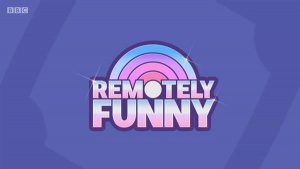 Host
Saara Forsberg
Broadcast
Twenty Twenty Kids for CBBC, 13 February 2017 to 16 March 2018 (35 episodes in 2 series)
Synopsis
Saara Forsberg and three children hang out online, and are given silly things to do.
The rounds are usually (but not always):
Bedroom Bonanza - find something in your room, or elsewhere in the house.
Toilet Takedown - questions while sat on the lav.
Food Flash - make a dish using prepared ingredients.
Meet the Family - an activity for parents.
The Decider - Catchphrase for the emoji age.
Saara awards "Samojis" (emoji of Saara) for challenge winners, and for other work that impresses her. During the game, each competitor is asked an embarrassing tale for a bonus mark.
There are recurring features. Each show has Saara against a stock photo of somewhere exotic; this doesn't theme the games at all. The food round features a gravy from Saara's home in Finland.
Prizes are small - a hoodie for the winner, stationery for the runners-up. Saara brings loads of personality, and the show moves quickly enough that we need never get bored.
Title music
The Composerworks Ltd.
Trivia
Filmed by the children using tablets and smartphones, connected via Skype TX.
Web links
See also
Feedback