Shipping Wars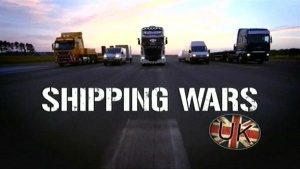 Host
Voiceover: Craig Kelly
Broadcast
Megalomedia for Channel 4, 5 January 2014 to 1 July 2016 (pilot + 60 episodes in 2 series)
Synopsis
Six transporters go head to head to win four loads. At the end of the week, the four drivers who have been selected are awarded points based on profit per mile and customer feedback. The driver who comes out on top is 'Transporter of the Week'. All the truckers come back to do it again next week.
If you can help us to expand this entry, please provide as much information as possible, using the feedback form below.
Inventor
A UK version of a US original. The imported version goes out there on the A&E Network, and in the UK on More4.
Theme music
James Dorman
Trivia
The 2015 series originally aired in a 4pm teatime slot, which pushed back Countdown to a 2.10 slot and Deal or No Deal to 3pm opposite Tipping Point. After the first two weeks, it was moved to an 11.30 morning slot versus This Morning. The 2016 series had its running time cut in half to 30 minutes and placed in a 5.30 slot that is usually filled by Come Dine with Me.
See also
Feedback