Show Me the Funny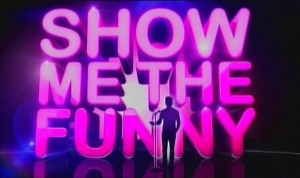 Host
Co-hosts
Judges: Alan Davies and Kate Copstick
Broadcast
Big Talk Productions for ITV1, 18 July to 25 August 2011 (7 episodes in 1 series)
Synopsis
Ten undiscovered comedians compete at gigs around the country in a bid to win £100,000, a multi-date UK tour and their very own DVD release.
If you can help us to expand this entry, please provide as much information as possible, using the feedback form below.
Champion
Pat Monahan
Trivia
A decade on, all of the participants are still performing. Probably the most successful is semi-finalist Ellie Taylor, while finalist Tiff Stevenson is a familiar face on panel shows, and Alfie Moore has his own Radio 4 series It's a Fair Cop. Prince Abdi, Stuart Goldsmith, Rudi Lickwood, Ignacio Lopez, Dan Mitchell and the champion Patrick Monahan all continue to play the comedy circuit, and Cole Parker is an actor.
Guest judges on the show were:
Ross Noble
Tommy Cannon and Bobby Ball
Web links
The show publicised the hashtag #smtf.
See also
Feedback