Weaver's Week 2011-08-07
Last week | Weaver's Week Index | Next week
This week, P. Kittens of London wrote, "Is the new 'Dragon' in the den what Pete Burns is now? Any second now she will burst into 'You Spin Me Right Round Baby...' ANY second!" Quite possibly the funniest line we've heard all week, and we're reviewing ITV's rib-chortling new stand-up comedy programme. We also find out why Jedward have been exercising their hands, and the link between the East India Company and George Washington.

LWT for ITV, Sundays from 17 July
We know this is going to be cloying, right from the start. It's billed on screen as Born To Shine Supported By Morrisons. We knew that from the roadshow van blocking off half the car park. We knew that from the posters in store, ones we analysed to the point of distraction yesterday, because the store owners are too mean to open enough checkouts and keep queues under ten minutes. No, we don't want to use your automated checkouts. We watch Only Connect and simply can't think down to their level.
The cloy factor increases with first sight of the host, Natasha Kaplinsky. We remember her as a safe pair of hands on BBC Breakfast, and a safe pair of legs on Strictly Come Dancing. Since then, she's given up presenting the news in favour of light entertainment roles, first on Channel 5 and now as the face of this ITV show.
It would be easy to be snide and knowing about the programme itself. We're quite deliberately not going to do that. It involves talented and capable children, who have a couple of minutes on prime-time ITV to show off what they've achieved. Last weekend, for instance, we were treated to a beat-boxer who would give Andy Akinwolere a run for his money, a singer-songwriter in the folk-pop arena, and a young gentleman Irish dancer.
Each of these youngsters is matched with a somewhat older ITV star. If we want to be, we could be treated to Joe Swash off of I'm a Celeb learning to beat-box, doing that strange percussive thing with his voice. We might see Tracy Ann Oberman from Bob Martin working out how to play guitar and sing and strum to someone else's song. Or we could tune in for comedian Jason Byrne as he attempts to re-create the winning performance from the 1994 Eurovision Song Contest.
Each youngster will have about ten minutes of screen time, only half of it shared with their ITV celebrity. After the celeb has done their performance, they'll receive a gentle critique from the show's Critical Panel: Denise Van Outen from The Big Breakfast, Jason Gardiner from Strictly Come Dancing ... On Ice, and this week's guest critic. The panel's contributions vary on a fairly narrow continuum, from "You learned a lot from your mentor, and there's so much for you still to learn from them" to "You two bonded so well you make BBC sticky toffee pudding look liquid."
And then we have The Televote of Inevitability. Call the number on screen, votes cost no more than 51p from BT landlines, calls from other networks may be higher and from mobiles will cost considerably more. No less than 35p from each call goes to Save the Children.
Ah! The charity bit! This isn't just any old celebrities making a fool of themselves show, it's a celebrities making a fool of themselves in a good cause show. After the lines have closed, there's a three-minute appeal on behalf of Save the Children, promoting their current fund-raising drive. Other celebs have gone to Africa to show the charity's works, and to ask viewers to send in some money. In the 1980s, it was cheques in the post, in the 1990s a bank of switchboard operators were standing by to take people's calls. Then it was payment by internet banking, and now donations via SMS are in vogue.
While we're musing on that, the votes are being counted, and we're running the Diversity Audit. They're present: some more talented youngsters are performing their routine on stage – the opening show had Diversity off of Britain's Got Talent, and they were reprising a routine seen on Blue Peter in June. Miss it, miss out. Oh, the other sort of diversity audit: is this just a show for white men? No: last week's show had ten main contributors, of whom four were women, and at least two weren't white.
Eventually, the time comes to announce the result. "The votes have been counted", says Natasha Kaplinsky, neglecting to suggest that they've been verified. Who does the counting? Mr. C. Monster of Sesame Street? Mr. J. Stalin of Liquidation Corp? We would ask to be told, if we cared about the result. Eventually, after spinning it out for slightly longer than is decent, Natasha announces the winner, there are scenes of celebration, and the end credits roll.
We like the idea of Born to Shine: children doing good things deserves a little more celebration than it gets on television. The actual execution is perhaps less polished, it's never quite clear if we're meant to be voting on the performance of the celebrity, or the ability of their mentor, or how well the two have related. Still, it's an undemanding feelgood hour, exactly right for the middle of Sunday evenings.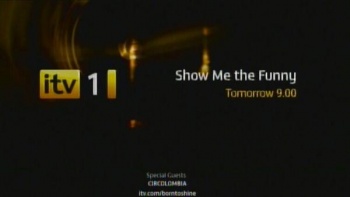 At the end of last week's Born To Shine, we were expecting a plug for Show Me the Funny. We weren't expecting it to take up three-quarters of the screen, while the credits appeared in the bottom quarter. Partly because we've not seen such a promo style before, and partly because that's actually the most legible credits squeeze we've yet seen on UK telly.

Big Talk Productions for ITV, Mondays from 18 July
ITV isn't a channel people associate with comedy. Yes, there's the sublime Harry Hill, but what else on the channel's schedule is deliberately and actually funny? The BBC channels have a good record in making shows to laugh at, Channel 4 has snigger-worthy programmes, but ITV's record of actually amusing programmes is lamentably short.
We didn't have high expectations of Show Me the Funny, which probably explains why we've found the programmes passable entertainment. This seems to be a minority opinion: Euan Ferguson in The Observer was typical of the professional telly reviewers, stating the show is "a bizarrely cack-handed production, which didn't let us see any of the contestants be funny or even perform".
That said, the first half of the show tends to the missable. In the opening episode, ten would-be comedians were put on the streets of Liverpool, and given a couple of hours to get pictures of themselves living various Liverpool clichés – seeing the Liver Birds, with a Beatle, that kind of thing. It's an excuse for them to meet the local people, get to grips with what makes them tick, know their audience a little better. For an opening episode, that's reasonable, because it gave the producers a chance to explain who the contestants were, and why we should like (or dislike) them. The diversity audit shows that two of ten original contestants, and one of three show regulars, are women; the original line-up had at least two people from visible minorities. By the third episode, when they've been plonked in a school, we're rather gasping for less build-up and more performance.
After a writing day, all of the comics will appear on stage, and the winners of this early challenge get to decide the running order of the performance. According to show host Jason Manford (Odd One In), this is a crucial decision, because the audience will need to be warmed up, and will be more likely to laugh later than earlier, but the winners might want to keep a lesser rival to go on before them and make them look better. It's a strategic choice, but it's never properly explained, and feels a bit jammed in.
And then we finally get to see something actually funny: Jason Manford doing his One-Headed Antan Dec impression. To be specific, that bit on the audition shows of Britain's Got Talent where their hosts are watching from the wings, mugging to camera and saying what Simon Cowell wants us to think about the act. Here, Jason is standing at the side of the stage while the stand-ups do their performances, passing judgement in quiet asides-to-camera as the routine continues.
There are lots of contenders, and only about 15 minutes of time available for the jokes. It's the big problem we have with this show, not enough performance. In a programme called "Show Me The Funny", we'd expect a good chunk of the programme to be from the comedic routines. As it is, the programme could change its name to "Show Me The People Running Around an Army Base" without anyone noticing.
We're allowed to see the most interesting bits of the routines. Some of them are spectacularly good jokes, such as the one in the army base, asking where the officers were. "At the front? There's a novelty!" Some of them fall flat: in the opening show, one contender's routine was to tell the people of Liverpool how great London was. And that's it. We're treated to the lowlights to laugh at, and the highlights to laugh with.
In the final part, judges Alan Davies (Jonathan Creek and QI) and Kate Copstick (On the Waterfront and some publications) give their opinion on what's happened. Four of the contenders are called back – for two of them, it's a Chat: praise, constructive criticism, pointers on how they can improve. The other two face judgement, as one of them will be leaving the programme. No-one minces words, least of all Kate: if she doesn't like someone's routine, she'll let them know. But neither is there drama for drama's sake: the criticisms have some validity, at the very least there is enough evidence for the producers to edit the programme and make them stick.
Overall, we're getting the feel of an ambitious project that didn't quite have the courage of its convictions. If ITV had taken the bull by the horns, and allowed twenty-odd minutes of stand-up comedy each week, the programme would clearly have been The Apprentice done for comedy. But the producers have decided to spend more time in the fact-finding stage than in the performance, and that makes the show more about the prep and aftermath, with the performance reduced to an afterthought. It's like showing all the build-up and post-match interviews from a live rugby match, then showing six minutes of mud-spattered shoving and calling it the highlights.
It's not the programme we wanted to see, and perhaps that explains why ratings have been poor. We don't think it quite justifies the mauling it's been receiving in the printed press: Show Me the Funny has promise, and if the live final (scheduled for the 22nd) is mostly comedy, it'll be the funniest thing on ITV this month. With the possible exception of The Day Today At Ten.
Heat 5: Balliol Oxford v Homerton Cambridge
"If I'm very lucky I *might* get out the supermarket in time for University Challenge" wrote ozgirlnc at 19.37. "It's one of the oldest rivalries," says the continuity announcer. Quite correctly, Oxbridge v The Rest. We'll greet Homerton Cambridge, making their debut this week after achieving full college status just last year. They used to be an education institution, with alumni including Sandi Toksvig and Nick Hancock. Neither of whom are well-known as teachers. Balliol's alumni include Ian Bayley, the reigning Mastermind champion.
Children's literature proves fruitful for Balliol, Homerton do very well on Geneva, Balliol are perhaps a bit lucky to get three metals of the platinum group. We always think of the Mike Oldfield track, as used on First Class The Video Quiz. Ooh, the Fashion Police seem to have come out tonight, 6_tailed_comet wrote, "I think the girl wearing huge rainbow earrings on University Challenge is trying to tell us something." That she's the only woman on the show? That neither she nor the other sides know the flag of the East India Company? That's the first visual starter, leading to other British colonial possessions, and Homerton has a 50-40 lead. We'll come back to this later.
"The questions in University Challenge are really hard this evening", says caz_matazz. Digraphs in the Welsh alphabet? It causes the Homerton side to miss their first bonus ever, but they do know that W and Y are vowels, in the right circumstances. And that CH comes between C and D. The Monday Night Crossover is back, and GwilymJJames notes, "Helps if the questions come up on Only Connect 30 minutes earlier." Historical definitions of the metre scored three for the University Challengers.
Balliol have questions on the size of countries, but as described by the CIA World Factbook, which uses provinces in North America. Everyone knows the international standard unit of area is the Wales. We've reached the audio round, on Music from CBBC's Doctor Who. Balliol has the slim lead, 100-85, and Andrew Havis says, "I bet I won't even understand what Jeremy Paxman is talking about when he gets to the maths questions." We've not had one yet.
Oh, Canada. You were the wrong answer to the East India Company earlier, but your songsmiths like Leonard Cohen and Neil Young have done Balliol proud. The microbloggers are going wild about the Doctor Who questions: Unsliced: "A question on Dr Who character themes? And they claim that University Challenge questions are getting harder, balanced and more fair?!" LloydDY: "Got all the questions about the Doctor Who soundtrack correct awesome." We're far more with the latter correspondent: a good quiz will entertain the casual viewer, and allow them to get something right, perhaps even beat the teams. This column was totally lost there.
And we've reached the maths bonuses, on the total number of rotational and reflectional symmetries possessed by various planar shapes. Which, from the sounds of it, young Thumper doesn't understand. Balliol does, sweeping them. Does no-one know that "Afghanistan" is the first country in the world? Were they not watching The Rich List during the spring? Paintings of Venice form the second visual round, after which Balliol has been pulling away a little, leading 190-105. JennaCorderoy has the right idea, "When you say Monet for all of the art round, you usually get it right."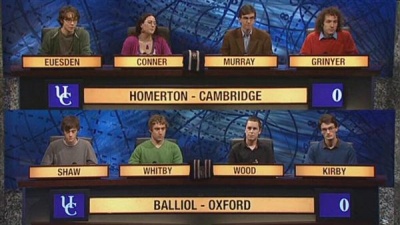 Homerton Cambridge - Jack Euesden, Frances Conner, David Murray, Thomas Grinyer
Balliol Oxford - Liam Shaw, Andrew Whitby, Simon Wood, James Kirby.
xSophieSurprise: "Not gonna lie, I jumped up and down and squealed when Murray Gold's music came on University Challenge." We rest our case. Does anyone remember who wrote "Rent"? Boyle's Law, that Simon Cowell always wins? No? Oh. Everyone's got a starter tonight, which we like to see, and Homerton have cut the gap to 40. And shrinking fast: Gloriana and US state capitals, and it's twenty, and Iggifalcon has the excuse to write, "I love it when Roger Tilling goes ape before the bong... One of the subtle joys of University Challenge"
The sides are level, 190-all with about 90 seconds to play. Balliol recall the Roman "stola" garment, and a full house here will win the game. Thumper doesn't let them stall for time at all, only one bonus there. Homerton spring back with the minotaur, Thumper begins a set of bonuses but doesn't even begin to ask the first question. Balliol has the win, 205-200.
Phew, that was close. Absolutely nothing in it, no missignals at all, Balliol went 31/52 on their questions, Homerton 30/52 on theirs. And just look at that overall accuracy rate: 61/79 is absolutely fantastic. This particular figure rarely gets above 60%; to have more than three-quarters of the questions answered correctly is tremendous. Well done, everyone. Including ozgirlnc, who only missed the first ten minutes; and Random Punter o'the Week, Fi79 reports "13".
A couple of days after the game, the Daily Telegraph threw a flag on the play. The newspaper claimed the East India Company's flag in the first visual round was also a flag of the nascent United States. Thumper asked, "which organisation this flag represented?" Grinyer of Homerton buzzed and offered "the thirteen colonies", adjudged incorrect. Balliol offered "Canada", clearly wrong. Balliol were correct in the next starter, and scored 5 points on the bonuses.
Now, we've gone away and done some research ourselves. The Encyclopaedia Britannica Online (article: United States of America, flag of the) states that the "Grand Union Flag" was an unofficial banner, and the first official flag of the breakaway forces was the stars and stripes, with 13 of each.
The Encyclopaedia Britannica is a scholarly publication, it does its homework, and we'd like to find two independent scholarly sources saying something different. Britannica's claim that this was an unofficial nature of the flag appears to be contradicted by the national myths told in the US: see Funk & Wagnall's Encyclopedia, or the Columbia Encyclopedia. As is so often the case, the truth varies with geography.
Thumper's question asked for an organisation, and while "the 13 colonies" was not an organisation, "the Continental Congress" or "Forces loyal to George Washington" would have been. At this early stage in the season, it's usual for the host to show some latitude in accepting answers.
As we noted, the match's final starter went to Homerton, and one correct bonus would have allowed them to draw level; the gong went just before that question was asked. If one accepts that "the thirteen colonies" was a correct answer, just not the one the setters expected, then Homerton can justifiably claim they were disadvantaged.
This column makes the following judgement calls:
We wouldn't ask the question knowing what we now know.
We think this is a much closer call than the Telegraph's article implies.
Ultimately, that Homerton has been disadvantaged through an administrative error.
Next match: Christ Church Oxford v Bath
This Week And Next
Two weeks ago, this column reviewed a pub quiz presented as a theatre show. This week, we learn that Bullseye is going to go on the road, touring the country in October and November. Het Grauniad's Yetllblog suggested that Shafted could become a hit, which would be a novelty. This column reckons that a gentle show inviting people to demonstrate their talents on air and ask them simple questions would prove popular. Anyone to Have a Go?
OFCOM published the latest fortnightly report on malfeasance in the broadcast world. The regulator turned down 23 complaints relating to transgender discrimination on "Big Brother's Big Mouth" and "Ultimate Big Brother" for the night of Nadia Almada's eviction last year. OFCOM has not published the reasons behind this decision. This column noted how OFCOM had rejected Miss Almada's complaint that her privacy had been breached on the show, and that this column dissented from OFCOM's finding.
News from Ireland, where the All-Ireland Talent Contest has come to an end, Daniel Furlong will be the reigning champion for a long time. We also hear that RTÉ has signed The X Factor and Eurovision losers Jedward to a new light entertainment show. OMG! Jedward's Dream Factory will be an Irish version of Jimmy Will Fix It, reports the Irish Times. The terrible twosome signed about 2500 copies of their new CD in one Dublin store, and Jed (or was it Ward?) told the Irish Independent, "We're bigger than Harry Potter. We have to do hand exercises for weeks beforehand so we'll be able to sign all the autographs."
Ratings data for the week to 24 July, and with The Apprentice now over, everything else moves up a place. In It to Win It leads with 5.6m, Tonight's the Night scores 3.85m, and Penn & Teller: Fool Us takes third with 3.6m. Odd One In was seen by 2.9m, and Born to Shine by 2.8m. University Challenge topped BBC2's list, with 2.5m viewers; 8 Out of 10 Cats led for Channel 4 with 1.95m. Britain's Got Talent US led the digital-only channels, 560,000 saw the Friday show, compared to 555,000 watching Come Dine on More4. Dave's repeats of HIGNFY pulled 395,000 on Sunday evening.
For the third time this year, Just a Minute returns (Radio 4, 6.30 Monday). Other than that, we're struggling: Jason Manford sings opera (Born to Shine, ITV, 8pm Sun), The Superstars reaches Cwmbran (ESPN Classic, weekday mornings), and another chance to see The Block (UKTV Home, 7pm Thu). Cripes, our pick of the week is probably Streetdance (C4, 8pm Saturday), a documentary following hopefuls at the UK Street Dance championships.
To have Weaver's Week emailed to you on publication day, receive our exclusive TV roundup of the game shows in the week ahead, and chat to other ukgameshows.com readers, sign up to our Yahoo! Group.