Spy
Host
Voiceover: Paul Brightwell
Co-hosts
Experts:
Mike Baker (former CIA agent)
Sandy Williams (former Intelligence Officer)
Harry Ferguson (ex-MI6)
John Potter (trainer)
Broadcast
Wall to Wall for BBC Three, 18 July to 12 September 2004 (10 episodes in 1 series)
Synopsis
Spy is remarkable in a number of ways. The contestants break the law, they assume a new identity, they live in the real world - not in prefab house arrest in East London - and yet have very little contact with their family. And it pulls off the remarkable stunt of getting away with an audacious idea - allowing ordinary members of the public to become spies using real techniques and exercises.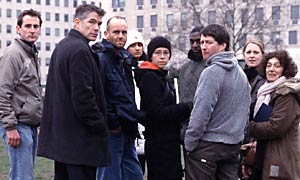 Left to right: David Clark, David Clark, David Clark, Karen Willis, Karen Willis, David Clark, David Clark, Karen Willis, Karen Willis
Eight contestants (curiously all called David Clark or Karen Willis) meet in a disused tube station on the Strand, London - a real location, incidentally. They begin with benign tasks like getting someone to let you into their home and work up to full missions, 24-hour surveillance and betraying the other contestants.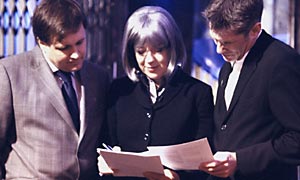 The trainers, struggling over 14 Down
At the end of the two month course, the final three went off to North Africa in a genuinely gripping finale. Although much of it was 'staged', you can be sure the contestants didn't know what to think.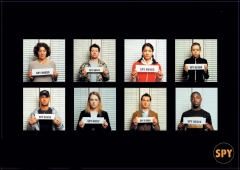 Contestants mugshots
What was refreshing about the elimination process here was that it happened ad hoc, on the run, rather than whenever we came to the end of a programme. The tasks were carefully plotted to accommodate the sizes of the teams.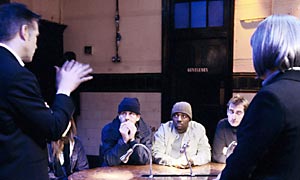 So, you wanna be a spy huh? Do a cartwheel.
Much of the casual audience didn't understand the series structure - what was it all for? is there a prize at the end? a job? - and that admittedly wasn't really spelt out. So, if the programme had a flaw, it was that the ultimate winner - who was very capable and really wanted to be a spy - had surely blown their cover. And even if they hadn't, we're hardly going to see Spy: The Winner's Story, are we?
No matter, for this was a superbly judged piece of television which must have taken many months of hard work to research. It stands out as an excellent game show success for BBC Three.
Trivia
According to a study by PACT (Producers' Alliance for Cinema and Television [1]), Spy was one of the most-exported British TV programmes (as opposed to formats) of 2004. It has been sold to 129 countries... and counting. In terms of game shows, only the all-conquering Pop Idol was more successful (unless you count Miss World as a gameshow).
Merchandise
Spy: A Handbook by Harry Ferguson
Web links
See also
Feedback