Thaila Zucchi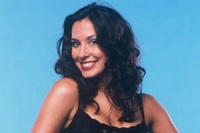 Biography
In the early days of the 21st century, Thaila Zucchi (pronounced Tyler) was part of the pop group all*Stars, made for the television series Star Street. They were a bit like S Club 7, only on CITV, and without the top-notch songs; appearances on Top of the Pops and some cross-promotion on Stars in Their Eyes was as famous as they got.
The group quickly disbanded, and Thaila turned to comedy acting. Her more memorable roles were on Channel 4 - "Bunny Boiler" in Balls of Steel, many of the women in Star Stories, and a recurring role in The IT Crowd. Her acting skills were tested in summer 2007, when she played fake housemate Pauline in Big Brother's Fake Week.
Zucchi continued to act, taking roles in Charlie Brooker's How TV Ruined Your Life, on Brainiac alongside Jon Tickle, opposite Des Lynam in adverts for Setanta Sports, and as Poppy Weathers in BBC3's World Series of Dating.
Web links
Feedback