That Puppet Game Show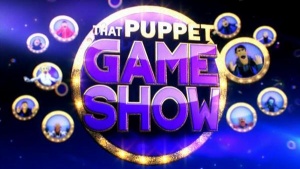 Host
"Dougie Colon" (Dave Chapman)
Broadcast
Jim Henson Company for BBC One, 10 August 2013 to 5 January 2014 (8 episodes in 1 series)
Synopsis
Celebrities appear on a game show, where they're given silly things to do by a muppet-like presenter, hoping to win ten grand for charity. The action is interspersed with a backstage comedy plot.
The difference between this and other recent family game shows is how the muppet-like presenter is an actual Henson-company marionated puppet, modelled on Vernon Kay.
Each show (45 minutes long, about 25 minutes of actual game) featured four games, hosted by one of the show's resident experts.
Dr. Strabismus, the science expert, put forward "Paddlestar Galactica" (fire ping-pong balls to dislodge balls held aloft on an airjet) and "Blow By Blow" (blow out 100 candles).
Amber O'Neill, the showbiz correspondent, had "Life's a Speech" (filling in the blanks in a prepared speech).
Miss (Jemima) Taptackle took sport, with "Punch Your Lights Out" (contestants are fitted into a jumpsuit festooned with a hundred lights, and they must punch their own lights to turn them off).
Eddie Watts was the music expert, offering "Saucissong" (squeeze singing sausages so they sing a song in the right order) and "Cheek to Cheek" (while slow-dancing, contestants identify slowed-down songs).
Jake Hamilton-Jones knows about nature, his games were "Bird Droppings" (imitate a bird call and collect its eggs) and "Dart Attack" (fire blowdarts at targets placed on a wheel around the other contestant).
The Amazing Ian, a mental-agility expert, with "Nosey Neigbour" (observation quiz while bouncing on a trampoline).
All six experts took part in That Puppet End Game, a quickfire general knowledge quiz. The supporting cast included a crab to keep the score, a bull to run the show, animated sausages, and a family of viewers at home.
In the real world, while all the family could enjoy the show as a whole, and elements within it, very few viewers enjoyed all the challenges and the off-stage plots. There was no surprise when the programme wasn't renewed.
Trivia
The show aired on Saturday evenings before being pulled from the schedules after six of the eight episodes had gone out; the remaining two episodes were burned off on Sunday afternoons during the Christmas period.
Web links
Recording report from Bother's Bar.
Pictures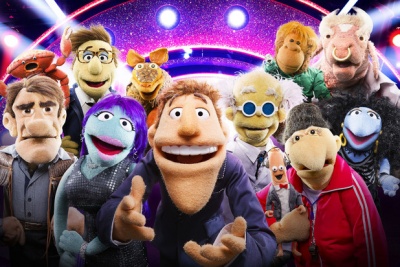 The regular cast.
See also
Feedback